A more buttoned-up exterior doesn't mean you won't roll up your sleeves. Our Corporate careers are fast-paced and rewarding — allowing you to help define how Verizon does business with integrity and achieves success. These jobs are at the cornerstone of a company determined to change the world with powerful technology. 
---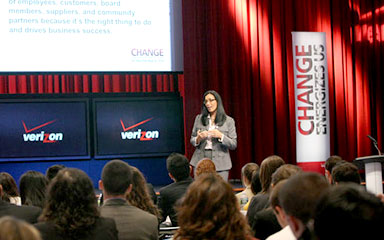 A CULTURE OF LEADERSHIP
Magda Yrizarry, our chief talent and diversity officer, discusses what it takes to become a successful leaders.
LIKE CHANGE, DRIVE CHANGE
Dirk Schlotter is a leader on our global Real Estate team—and he says he has the most exciting job in the world. Discover the opportunities Dirk has had and why he feels this is a great time to be part of our business.
---
Explore Verizon Corporate career areas
COMMUNICATIONS
Our Corporate Communications team is the voice of our company and helps advocate for what matters to us and our customers. From employee communications to public relations, it's essential that our team has strong communicators with excellent writing and interpersonal skills.  
HUMAN RESOURCES
Our Human Resources team champions our culture and aligns our people strategy with our business strategy. Whether you're recruiting the best talent, delivering training to develop winning teams, or creating a best-in-class employee experience, you'll be making a difference to our most important asset—our people.
LEGAL & REGULATORY
Work closely with our leadership to negotiate contracts and advise on cases across a spectrum of legal and regulatory matters. Our team members tackle some of the toughest challenges shaping our business and the technology industry. They've also approved this message!
SOURCING
You definitely wouldn't have an ordinary desk job as part of our Sourcing team. Instead, you'd be responsible for global activities and billions of dollars across multiple categories. Our team manages business relationships with diverse suppliers and oversees overall strategic supplier relationships for all areas of the business.
STRATEGIC PLANNING
Our Strategic Planning team is our in-house think tank, identifying and evaluating trends, emerging technologies, new competitors and growth opportunities to keep our company on the forefront of innovation and success. These essential positions are critical to our evolution.  
SUPPLY CHAIN
Manage critical day-to-day operations of network equipment and wireless devices through our supply chain. This includes warehouse management, transportation, investment recovery management and sustainability efforts throughout the company. Ensure continued product support to our customers through logistics, reverse inventory planning and cost efficiencies.