You're a good listener and problem-solver and love helping people. On the Customer Service team at Verizon, you can combine these natural strengths with your tech-savvy skills to deliver innovative, individualized solutions that meet customers' ever-changing needs. We take pride in helping people feel empowered to use their personal technology to the fullest potential every day, all while ensuring a world-class customer experience. It's our customer-first culture that sets us apart.
Search Verizon Customer Service Jobs
---
Featured Customer Service Job Opportunities
---
Customer Service at Verizon
If you're looking for a fun, fast-paced, nurturing environment where you have the opportunity to grow your career, we're looking for high-energy people eager to provide world-class solutions for our customers.
Our Call Centers are at the heart of our Customer Service operations. They play a key role in keeping us connected to our valued customers.
Answering a high volume of customer calls, you'll troubleshoot issues quickly and efficiently to provide outstanding technical support and solutions, ensuring that our customers are getting the most out of our products and services. Your ability to listen attentively, build trust and respond quickly to their concerns makes a meaningful difference in our customers' lives.
---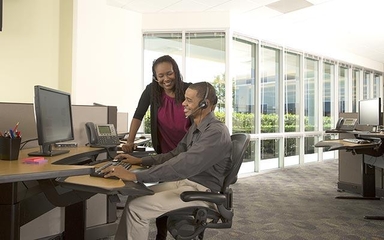 6 Things No One Ever Told You About Working in Customer Service (But Should Have)
If you're in the dark about what Verizon Customer Service careers are all about -- having a purpose; opportunity; the satisfaction of achieving tangible, meaningful results -- let us fill you in.
PICK UP. IT'S YOUR CAREER CALLING.
"Let's not follow a script. Let's have a conversation." Our customer service team has the know-how on the latest technology. They're here to share that knowledge with customers and provide solutions.