Love being on top of the latest technology? Enthusiastic about sharing innovative solutions to today's challenges? Then imagine the satisfaction of delivering game-changing technologies and best-in-class products and services to individuals and businesses around the world.
We offer award-winning training and the opportunity for you to work alongside an experienced team. Combine this with incentives to excel and your career is sure to soar. We want you to be successful. After all, your success is ours, too.
 
---
Featured Sales Job Opportunities
Launch Your Sales Career at Verizon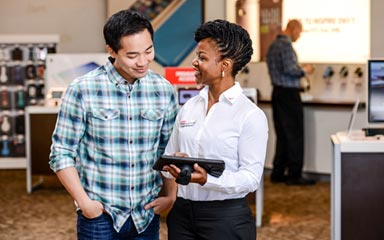 EMPLOYEES NAME VERIZON IN TOP 10 HAPPIEST RETAILERS
CareerBliss evaluated reviews from our own employees, which led Forbes to name Verizon among its Top 10 Happiest Retailers to work for in 2014.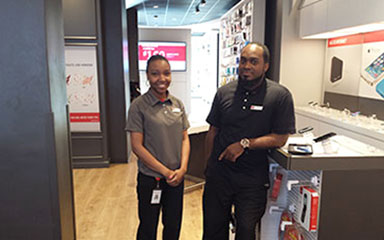 SMART STORE: THE COOLER SIDE OF RETAIL SALES
We're changing the face of our retail stores. Verizon Smart Store employees Domonique and Jerome share how we're incorporating technology and delivering solutions that work for our customer's lifestyles.
SET THE TONE FOR CUSTOMER EXPERIENCE
Our knowledgeable Specialists are experts at creating a meaningful in-store experience for our customers. The invaluable one-on-one attention our team provides makes it easy for customers to learn about the products that best meet their needs.
VARIETY: THE SECRET TO CAREER SATISFACTION
Keala Richard is a solutions specialist sales rep at Verizon. She enjoys that her job is full of pleasant surprises -- new people, new technology and new ideas every day.
RETAIL TAKES SKILL, NOT JUST SALES
Stephen WIlcox is a solutions specialist sales rep at Verizon. He knows that retail isn't' just about selling new products, it's about skill: knowing the technology and understanding a customer's needs.
A CHANCE TO MAKE YOUR MARK - VERIZON RETAIL SALES
Parneet Chahil is a solutions specialist manager at Verizon. She takes pride in her team's family-oriented thinking and ability to build strong customer relationships.
---
Explore Various Careers in Sales: