Women in Sales
Purpose. Potential.

Your future as a woman
in sales at Verizon.
Map your career here.
At Verizon, you'll find more than a job. You'll find a rewarding career in sales with the opportunity to advance every step of the way. That's because we make a true investment in you. From career mentoring to best-in-class training, we'll help build your skills and promote your talent. Realize your full potential here. Discover why Verizon sales is for you.
See yourself in Verizon sales.
Find out how your talents apply across Verizon sales, including business to business sales, enterprise sales, inside sales, and retail sales. Because whether you consider yourself a good listener, self-starter or problem-solver, chances are we have a position for you.
Being a sales leader at Verizon. It's in her DNA.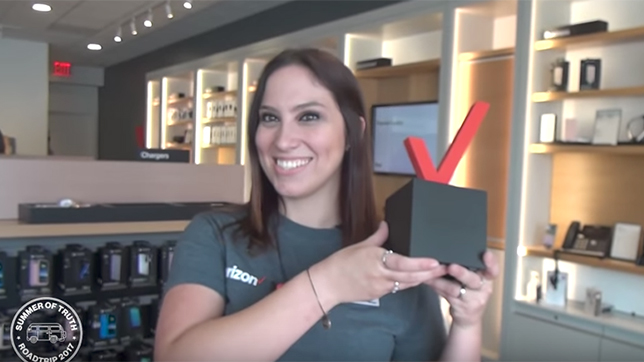 Making it work for you.
We know you're passionate about your career but may not want to be defined by it. That's why Verizon wants to make sure you can have a work/life balance that sets you up for success.
We offer everything from gym discounts to generous vacation policies to Healthy Pregnancy Programs for expecting mothers and up to eight weeks of paid parental leave. We not only help you do it all, we help you do it all better.
The voice of women in sales
Norma Moreno-Bernal
District Manager, Retail Sales
Verizon has given me the ability to balance motherhood and my career, as well as going back to school.
Amanda Lee
Managing Partner - East Georgia
Working at Verizon is just the right blend of challenging hard work and rewarding opportunity.
Shea Gilliam
Business Sales Manager - Government
I appreciate that Verizon is dedicated to its employees and I can't imagine growing my career anywhere else.
Headline
A culture you can feel good about.
Description
Diversity and inclusion is how we achieve success. By celebrating diversity across all spectrums, including but not limited to race, national origin, religion, gender, sexual orientation, gender identity, disability, veteran/military status, and age, we are a stronger company and culture. 
Headline
Proud to be diverse and inclusive.
Description
The Women's Business Enterprise National Council (WBENC) has recognized Verizon's efforts to support women-owned businesses for 10 consecutive years. In 2017, Verizon was honored with a top award as one of America's Top Corporations for Women's Business Enterprises.
Headline
Get more out of your career.
Description
Financial rewards
Great pay, profit sharing, and 401 (k) match (100% on first 6% of contributions)
Life-long learning
Training and development, plus $8,000 a year in tuition reimbursement benefits
Healthy body and mind
Best-in-class health and insurance benefits, Employee Assistance Program, and more.
More "me" time
Generous vacation policy, and personal days, plus ways to optimize the hours of your day.
Apply your talent.
At Verizon, women are excelling across sales – from entry-level positions, to executive leadership roles. That's because we are committed to investing in our people and promoting talent from within. Ready to find the career that's right for you?