We look to tomorrow every day. That's why we're committed to engaging the sharpest minds, empowering our team, and making a difference with what we do, what we create and how we impact people's lives and communities.
We Hire People Who Think Big and Want to Act
We equip our employees with valuable training and resources that help them make dreams come to life. There's limitless creativity and opportunity to drive the next generation of technology. Discover the opportunities that await you.
---
EMBRACING PEOPLE FROM ALL WALKS OF LIFE
At Verizon's Annual Global Diversity & Inclusion Conference, leaders and employees came together to celebrate the uniqueness that each person brings to Verizon.
SMART STORE: THE COOLER SIDE OF RETAIL SALES
We're changing the face of our retail stores. Verizon Smart Store employees Domonique and Jerome share how we're incorporating technology and delivering solutions that work for our customer's lifestyles.
PUSH BOUNDARIES AND MAKE A DIFFERENCE
Join our team and be a part of groundbreaking innovations that change the world for the better, in an environment that offers you countless possibilities to advance your career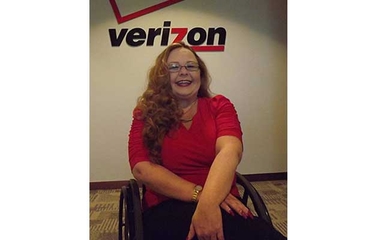 "MY DISABILITY DOESN'T DEFINE ME."
"I'm an employee who contributes to the company's success. Verizon doesn't look at me as a person in a wheelchair," says Rhonda Bingel, office manager of legal support at Verizon.