We invest in projects that provide technology to help underserved Virginians and people with disabilities access information on critical health issues. We also support innovative technology that helps health care providers increase their efficiency, effectiveness and reach. And we're committed to creating safer homes and communities by helping to prevent domestic violence and teach people how to protect themselves from online predators and bandits.
Below you'll find some information about recent grants and examples of our partnerships already in action.
---
Featured Events & Programs
The Verizon Foundation recently presented a $5,000 grant to the Rappahannock Council Against Sexual Assault (RCASA) to help support a bilingual Crisis Responder to create Spanish language materials and needed translation services for clients, provide hospital accompaniment, and answer hotline calls. Funds from the grant will also be used to provide resources for the part time Case Manager who will handle the increased number of support groups and community referrals for victims of sexual assault, including sexual assault related to Domestic Violence.
---
The Verizon Foundation recently presented a $5,000 grant to the Loudoun Abused Women's Shelter to help support programs that provide healthy relationship and violence awareness outreach and educational activities for teens. The programs includes implementing school-wide awareness activities that will educate other teens and allow for program participants to serve as mentors/ role models to their peers.
---
Stop Child Abuse Now (SCAN) of Northern Virginia
The Verizon Foundation presented a $7,500 grant to Stop Child Abuse Now (SCAN) of Northern Virginia. The grant will help support a multi-faceted program which engages men as advocates and change agents to prevent family violence. The program includes leadership of a region-wide coalition and public education efforts including participation in community events, speaking engagements and distribution of parenting literature that focus on having a positive, long-term impact in domestic violence prevention throughout northern Virginia.
Pictured (L to R): Sean Hosty, President of the Board of Directors, Sonia Quiñónez, Executive Director of SCAN; and Verizon's Doug Brammer.
To learn more about the great work that they do at SCAN, please visit http://www.scanva.org/.
---
The Genieve Shelter
The Verizon Foundation presented a $17,500 grant to The Genieve Shelter in Suffolk, VA. The grant will help support a program for teens in the Western Tidewater region promoting healthy dating relationships and focusing on the long-term impacts of dating and domestic violence. The peer-based counseling is designed to lessen the likelihood that teens will enter into the behaviors that lead to domestic violence either as perpetrators or as victims.
Pictured (L to R): James Gregory, Development Coordinator for The Genieve Shelter; and Verizon's Laura Barnes.
To learn more, please visit http://www.thegenieveshelter.org/.
---
Bethany House of Northern Virginia
The Verizon Foundation presented a $5,000 grant to Bethany House of Northern Virginia to help support programs providing women and children impacted by domestic violence with resources and mental health services to help them recover from the trauma of abuse, as well as the tools and skills needed to prevent repeated involvement in abusive relationships.
Pictured (L to R): Shilli Vasser Billiam, Director of Development, Jasmin Witcher, Acting Executive Director, Verizon's Doug Brammer.
To learn more about the great work that they do, please visit http://www.bhnv.org/.
---
Powerful Answers Awards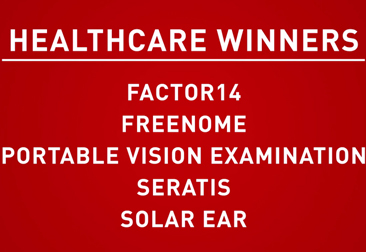 On Jan. 8, 2014, Verizon announced the five Powerful Answers Award winners in the healthcare category.

The winners in the healthcare category address a variety of issues, including allowing healthcare providers to visualize the network of care around patients; how to identify and treat diseases early through a combination of big data, biotechnology and telemedicine; and a solution that monitors patients on the anticoagulation therapy warfarin. Other winners focus on how to address hearing loss in developing countries with better screening techniques and an app that does portable vision examinations in a low-cost, non-invasive manner. [ Learn More ]
---
UVA High-Risk Obstetrics Telehealth Program Expanding to Danville and Chatham
With support from a $20,000 grant from the Verizon Foundation, the University of Virginia (UVA) Center for Telehealth is planning to expand their high-risk obstetrics telehealth program to Danville and Chatham. Through this program, pregnant women in Danville and Chatham at higher risk for delivering a baby prematurely will soon be able to access specialized care at the University of Virginia Health System without leaving their home community. Through secure audio and video links to UVA from a local telemedicine site, pregnant women will be seen by UVA's maternal fetal medicine doctors, who specialize in treating women at higher risk for delivering their babies prematurely. Patients who may benefit from the program include women who had health problems during a previous pregnancy, including premature births, who are pregnant with multiple babies, and who have health problems such as diabetes, high blood pressure or kidney disease. This initiative is part of Verizon's commitment to leveraging its technology and resources to improve healthcare quality and access in rural and urban communities in need.
---
Loudoun Chamber Honors Healthy Businesses
The Loudoun County Chamber of Commerce announced the winners of its inaugural "Healthy Business Challenge," recognizing companies with effective programs promoting the wellness and productivity of employees. Of the 39 participating businesses, four stood out and received top honors for company scorecards. Verizon took top prize in the large business category. [ Learn More ]
---
Verizon Partners with SCAN to Support Public Education
Verizon representatives joined supporters of SCAN (Stop Child Abuse Now of Northern Virginia) at the organization's 11th Annual Allies in Prevention Awards luncheon to launch the 2013 Northern Virginia Child Abuse Prevention Campaign.
Last year, Verizon awarded a foundation grant to support SCAN's Public Education Program, which motivates individuals, families and community agencies to learn about the importance of positive, nurturing parenting and about the incidence, prevention and treatment of child abuse and neglect. Approximately half of the resources provided by SCAN are produced in Spanish and target underserved populations in the Hispanic community in Northern Virginia.
To learn more about SCAN and the awards event, visit http://www.scanva.org/allies_in_prevention_awards_luncheon.htm.
---
Video Gallery
Smart Vision Labs - Powerful Answers
Smart Vision Labs - The winner of the Pwowerful Answers Awards top prize in the healthcare category, Smart Vision Labs developed a portable vision examination device that, with a single snapshot, measures refractive errors of the eye and generates prescriptions – all without patient interaction. The pocket-sized and low cost Smart Aberrometer uses a smartphone's flashlight and camera, combined with an add-on microlens array, to improve the way people get their vision evaluated.
---
Converged Health Management
Verizon is addressing yet another critical issue faced by the U.S. healthcare system, with Converged Health Management, a remote patient-monitoring medical platform designed to help clinicians and patients manage their health in between doctor visits. [ Learn More ]
---
Using Technology to Improve Healthcare for Women
The Verizon Foundation has partnered with the Society for Women's Health Research to test technology that makes it easier to improve healthcare for women and make sure technology reaches those who need it most.
---
Verizon and Digital Health Care Solutions
Verizon technology is helping advance patient-centered health care by connecting applications, machines, information, patients and healthcare professionals in their own environments.
---
Engineered for Innovation
The new Verizon 4G LTE network is opening new possibilities for remote healthcare.
---
Telling Amy's Story
Hosted by actress and advocate Mariska Hargitay, and told by Detective Deirdri Fishel, Telling Amy's Story follows the timeline of a domestic violence homicide.