Verizon Identifies Key Enterprise-Technology Trends for 2015
Verizon Identifies Key Enterprise-Technology Trends for 2015
Media contact(s)
Clare Ward
T.
@VerizonClare
" class="social-block__icon" target="_blank">
Follow us on Twitter
Strategic Network Investments Will Help Master the Cloud, Make Sense of Big Data, and Monetize the Internet of Things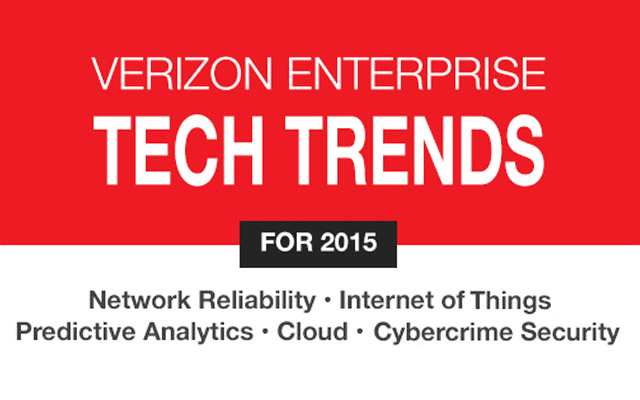 NEW YORK – Strategic network investments will be a major focus point for savvy CIOs in 2015, as companies seek to make sense of big data, transition to the cloud and monetize the Internet of Things, according to Verizon Enterprise Solutions' list of top enterprise technology trends for 2015. In the coming year, enterprise organizations will also adopt technologies that drive business innovation and provide a strong platform for future growth.
Read the full story, including thoughts from Chris Formant, Verizon Enterprise Solutions' global president, at http://news.verizonenterprise.com/2014/11/verizon-key-technology-trends-2015.
Verizon Enterprise Solutions is a leading provider of advanced IT and communications services to enterprise and governments around the world. Visit Verizon Enterprise Solutions for more information.