Description
Everyone deserves technology that makes them feel connected.
No one should feel excluded from our digital world due to a disability. That includes the 39.6 million adults in the U.S. with a physical functioning difficulty.1
Verizon is proud to promote National Mobility Awareness Month as we work toward greater accessibility today and every day.
We have best-in-class products and services available to assist customers with disabilities, physical or otherwise.

We offer career opportunities for those with disabilities in a diverse, inclusive and empowering environment.

And we've partnered with organizations that support and advocate for those with mobility-related disabilities.
Whether you're a customer, job seeker or anyone else interested in Verizon's efforts at accessibility and inclusion, please take a look at the information and resources below.
Mobility/Accessibility Panel highlights
Verizon recently hosted a policy discussion focused on enabling personal autonomy through technology.
Read a brief recap of the event to learn about the latest advances in accessible technologies.
View the blog post
Headline
Mobility tools from Verizon
Description
For customers with physical or mobility-related disabilities, Verizon offers assistance such as a big button remote and an audible on-screen guide for Fios TV. Find services and tools made for the way you communicate.
If you would benefit from a Fios TV remote with larger buttons, we would be happy to provide you with one at no charge.
Text to Speech can enhance accessibility by providing an audible readout of on-screen text, such as menu and guide data.
Alternate billing formats
Verizon can provide bills or product and service brochures in alternate media formats, such as braille, large print, audio CD & CD-ROM.
Description
Giving deafblind young people new ways to connect
Verizon recently hosted a youth advocacy workshop with DeafBlind Citizens in Action (DBCA) to discuss how technology can help deafblind young people communicate with the world. It's one example of how we're working together with our partners to promote fuller accessibility.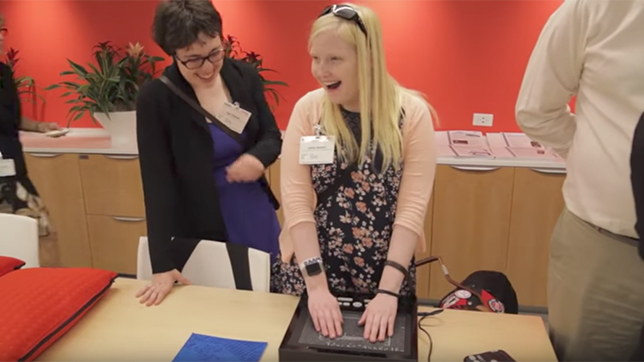 Headline
Accessible resources from Verizon
Description
From products and services tailored to your needs to a workplace where everyone is empowered to reach their full potential, Verizon is dedicated to inclusion. Follow these links to find the resources relevant to you.
Verizon accessibility
Get an overview of accessible services available to Verizon Wireless and Fios customers.
Verizon Wireless accessibility services
See a detailed list of services available to Verizon Wireless customers.
Verizon accessibility news
Read the latest Verizon stories about accessibility in our News Center.
Working at Verizon
Join a company that recognizes employee diversity as one of its most important strengths.
Description
Our partners
Verizon is proud to financially support and partner with these nonprofit organizations who advocate on behalf of those with mobility-related disabilities.