A complete guide to cord cutting and finding the best cable alternatives
Calling all cord cutters: Are you ready to get rid of your monthly cable bill and stream TV over the internet?
Full Transparency
Our editorial transparency tool uses blockchain technology to permanently log all changes made to official releases after publication.
More of our content is being permanently logged via blockchain technology starting [10.23.2020].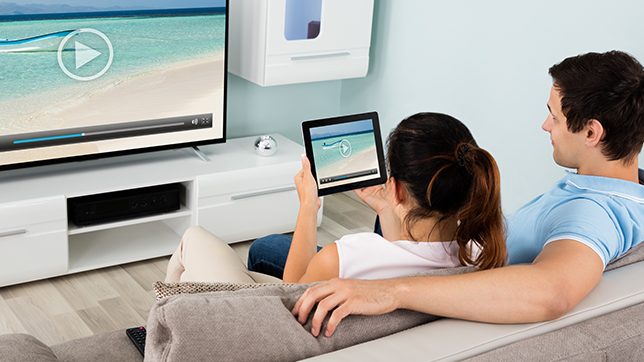 Cord cutting 101
Cord cutting has become a popular alternative to cable as streaming TV options have proliferated on the web and consumers turn to smartphones, tablets and other wireless devices to watch their favorite shows.
Many streaming services let consumers tailor content according to their interests and preferences. And paying for a la carte programming like this can result in significant savings compared to cable – once you've cut the cable cord, that is.
But no matter why you're considering streaming instead of cable – be it content, convenience, or cost savings – you'll need to find the best internet for cord cutters. And that's just the type of service that Verizon Fios Internet provides to millions of customers every day.
The best internet for cord cutting & streaming content
Whether you're considering the jump to streaming TV or you're one of those veteran cord cutters who ditched your cable provider a long time ago, Fios Internet is the broadband connection you need.
Fios Internet gives you the speed and reliability you need to cut the cord.
Why? Because Fios runs on a 100% fiber-optic network, giving you the speed and reliability to stream all the shows you want with fewer signal interruptions and less buffering.
And fiber optics are perfect for streaming 4K Ultra High Definition video. So you can stream 4K films and TV shows in sharp, amazing detail.
Choosing a plan that fits your bandwidth needs
No matter how many streamers you have in your cord-cutting household, Verizon has you covered with the bandwidth you need – from a 100 Mbps plan perfect for smaller homes to the Fios Gigabit Connection, which is tailor-made for those households with multiple family members streaming, surfing and gaming all at once.
Whichever plan you choose, you'll be getting the very best internet for your cord cutting experience with Verizon Fios Internet, a better way of enjoying the internet with superfast speed and amazing reliability.
Want to start streaming TV over the internet? Make sure you have the essentials.
Must-have cord cutting devices
If you're looking to become a cord cutter, there are a few streaming essentials – such as networking and Wi-Fi devices – you'll need to have on hand before you can get rid of cable.
To cut the cord and start streaming TV over the internet you'll need:
A modem and WiFi router;

A WiFi extender (for larger homes);

A streaming video service;

A streaming device for your TV;

And, most importantly of all, an incredible internet service to deliver all that streaming content to the multiple screens in your household.
Modem & WiFi router
A modem connects your home to Verizon's Fios network and a WiFi router transmits the signal to multiple devices. Having a powerful router is important for surfing the internet and streaming media at top speeds from your wireless devices.
If you don't have a WiFi router or if you want to upgrade your current router to give your WiFi signal a boost, get a high-performance router like the Fios Quantum Gateway, one of the fastest WiFi routers available.
The Fios Quantum Gateway will provide a broader range for WiFi coverage in and around your home. It also includes an integrated modem, which means there will be one less device taking up space.
WiFi extender or WiFi mesh network
An essential accessory for cord cutters with larger homes, a range extender expands the reach and potential of your WiFi network by taking the signal from your router and extending it so that it reaches devices that are located far from the router.
If you've experienced WiFi dead zones in your home before, consider adding the Fios Network Extender to your network. That way, you can be sure you're getting the most from your Fios Internet connection throughout your entire living space.
A WiFi mesh network – which you can create with a device like the NETGEAR Orbi™ Tri-Band WiFi System – is another option to extend the range of your WiFi signal. Featuring two access points for improved coverage throughout your home, the Orbi WiFi router covers up to 5,000 square feet with your very own secure, reliable WiFi network. And it's easy to set up right out of the box.
Your home WiFi network supports your broadband connection. Choose the right devices for your household.
Smart devices for your TV
A smart device – also known as a media streaming device or media streamer – is a must-have accessory for most cord cutters*. It gives you access to streaming TV options and lets you control the content you're streaming to your TV from your wireless device. (*Some newer TVs have software built in that connects directly to streaming services through your WiFi network. So check your TV's specs before you buy a streaming device.)
Verizon offers the Google Chromecast Ultra, which features a powerful processor for smooth playback with fewer dropped frames. It supports over 1,000 Cast-enabled apps, including Netflix, YouTube and Spotify.
This media streaming device couldn't be simpler to use. It plugs right into your TV's HDMI port and connects wirelessly to your home's WiFi network.
Search for content, navigate, play and pause – all from your smartphone. Chromecast works with your iPhone, iPad, Android–powered phone or tablet, or your laptop, allowing you to stream TV, movies and music, and even browse the web right on your TV.
Plus, for those with 4K-enabled televisions, Chromecast Ultra lets you stream 4K content in Ultra-HD resolution.
TV and video streaming services
After your internet provider, a streaming video service is the next most important element in your cord cutting setup. That's because these services provide the content you'll enjoy streaming over the internet – whether it's shows, sports, news, concerts or movies.
Popular streaming services include Netflix, Hulu and Amazon Prime Video, among others. Many of these services offer monthly subscriptions for a reasonable price and often cost less per month than a typical cable TV package.
No matter where you get your streaming content, make sure you have the fastest internet for the best experience.
But chances are no one provider will offer every program, movie or series you want to watch. So it's worth it to do some research and choose the service – or services – offering the most content you like.
One thing you may want to keep in mind as you choose your streaming service: Verizon Fios TV customers with a compatible set top box can watch Netflix on Fios TV. To do so, you'll need a subscription to Netflix and Fios Internet service with Fios TV Multi-Room DVR Enhanced or Premium Service.
Cord cutting vs cord shaving
If you've considered cutting the cord but worry that you might have to give up some of your favorite channels, something known as "cord shaving" may be an alternative to consider.
What is cord shaving? Cord shaving is when you strip out all the "extra" channels and add-ons from your cable service, leaving you with a bundle of basic channels that may cost a lot less per month than a typical cable TV package.
Cord shaving is another option for people looking to save on their cable bill by streaming.
Once you've chosen a slimmed down cable package, you may choose to add streaming services as described above to supplement the content available to you. Even with the added cost of a streaming service or two, you may be able to lower your cable bill enough to make cord shaving a money-saving option.
Cord shaving may be a good option for news junkies and sports lovers who are cutting the cord, as those two types of content can be especially hard to find through streaming services.
Saving on premium channel subscriptions
Looking for a way to watch premium channels while enjoying cost savings? Take advantage of free preview weekends with Free View on Fios TV.
Free View gives Fios TV customers the opportunity to preview premium networks they don't currently subscribe to for 48 hours – for free. Premium networks available through Free View include HBO, Showtime, Cinemax, Starz and Epix.
Plus, Free View includes premium on-demand content and the ability to watch these premium channels on-the-go through the Fios TV app. (The Fios TV app is included with a Fios TV subscription and lets you watch TV virtually anywhere using your iPad, iPhone, Android or Kindle Fire.) So you can choose where and when to enjoy premium content from HBO and Showtime during your free trial.
Don't forget the #1 cord cutting essential: A lightning-fast connection
So, there you have it – a basic cord cutting guide.
But before you make the leap to internet TV, here's one really important thing to keep in mind...
No matter which internet TV service you choose, and whether you're streaming sports, news, comedy or the latest episode of your favorite drama, the speed of your connection will determine the quality of your stream. 
So if you're itching to cut the cord and get rid of cable, make sure you power your streaming experience with Fios Internet from Verizon. With superfast speeds on a 100% fiber-optic network, Fios gives you the speed and reliability you need to cut the cord and enjoy streaming TV on your terms.
Learn more about Fios Internet