10 interview tips to help you prepare
A simple checklist for putting your best foot forward.
Full Transparency
More of our content is being permanently logged via blockchain technology starting [10.23.2020].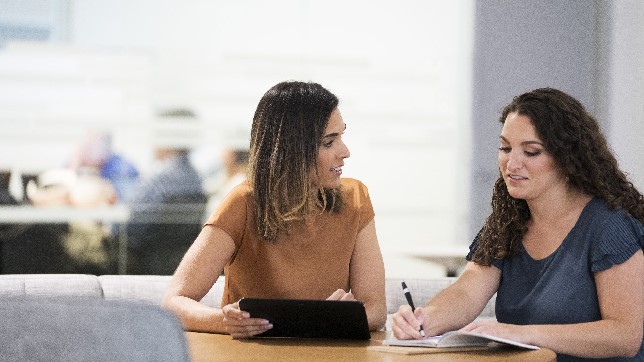 Congrats! You've been asked to interview at Verizon. You're one step closer to landing that dream job and you're feeling...well, a little intimidated. Whether this is your first-ever interview or something you've done before, we understand that these meetings can be nerve-racking. To help, we've compiled a list of our favorite interview tips.
Do your research. Study up and learn about Verizon technology, customers and community here. Our Credo is an important read, too. Having this knowledge will help you dazzle your interviewer.
Think beyond the resume. Don't assume that people know who you are just because you applied. Come ready to talk about specific examples from your work experience and background.
Brainstorm. Jot down a few questions about the company or position ahead of time. This is your chance to get to know us too, so take the opportunity. You'll never know until you ask.
Give it a test run. Before you leave the house, figure out how to get to the office, accounting for variables like traffic or construction. If you're participating in a video interview, double check to make sure everything is working properly before logging in.
Be ready. To look and feel alert, get a good night's sleep and eat something before you arrive. Being well-rested and well-fed will keep you steady throughout the day. But take it easy on the caffeine to avoid the jitters.
Dress for success. When you look good, you feel good - and it shows. Pick out your outfit ahead of time, down to your socks and shoes. This will prevent any last minute wardrobe mishaps and give you a few extra minutes to get ready that day.
Avoid distractions. To focus on the task at hand, do yourself a favor and turn off the notifications on your phone. You can catch up on Instagram afterward. Take this one step further and set it to silent.
Relax and breathe. It's normal to be nervous but remember, once things get started the butterflies will fade. If you've done your homework and made time to prepare, this should be smooth sailing. You've got this. Take a moment.
Don't rush! After hearing the question, pause to collect your thoughts before giving an answer. You'll come across as more composed and offer deeper insights versus saying the first thing that comes to mind.
Be yourself. This is the best way for us to get to know each other. Rather than putting on a performance, be open and honest. Ultimately, we're interested in learning how we could work together.