5K Training Apps: How Technology Can Keep You on Track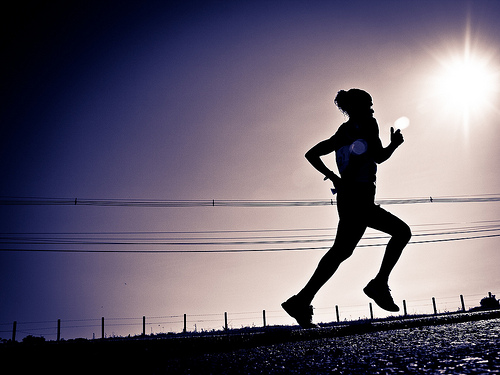 Yesterday we introduced you to blogger/runner Jenna Hatfield, who is using the Fitbit Flex to train for the Columbus Half Marathon. Many other running enthusiasts are deep in training for races this fall. In St. Louis, runners race in everything from the Central West End 5K to the Go! St. Louis Halloween Race. In Kansas, runners choose to be covered in color in the Wichita 5K Color Vibe or mummified in Kansas City's Mummy Run.
Once registration is completed, how does one even get to the starting line? The following apps can help all types of runners train for anything from a 5K to a marathon. Each runner is different, and his/her training program should reflect that.
Couch to 5K ($1.99 for iOS and Android) is great for any beginner by supplying a training plan designed by Active.com trainers. The app allows runners to calculate distance and pace while mapping routes with GPS. Runners are also able to log workouts and share progress on Facebook.
Another great app for beginners is 5K Runner: 0 to 5K ($2.99 for iOS). The app's program only lasts eight weeks, running only 30 minutes three days a week.
Making training more manageable and able to fit into anyone's busy life. miCoach, free for iOS and Android, is another favorite, using real-time voice coaching to help pace runners through workouts. The app receives daily planned workouts and coaching feedback delivered right to the phone. Also, with the support of Bluetooth Smart Heart-Rate-Monitors, these apps feature real-time heart rate monitoring.
Since no workout is complete without some good tunes to enjoy, the app Upbeat Workouts for Runners ($2.99 for iOS), provides "upbeat" tunes for the trek. The app prevents unfortunate moments when runners are getting into a groove and then the song changes to a slow ballad. Upbeat Workouts for Runners matches walking or running pace to music automatically. Never again will runners be sprinting to the finish line listening to a sappy, slow love song!
Diet is another important part of training. MyFitnessPal (free for iOS and Android) helps runners keep a healthy balanced diet while training. MyFitnessPal has the largest food database of any Android calorie counter, including fast food. The app also allows for exercise entry, creating a balance between workout and diet.
Runners can also ensure their training is balanced with the Fitbit One from Verizon Wireless. The device tracks activity throughout the day, monitors sleep patterns, helps to set and keep goals and syncs automatically to computers and smartphones, making information accessible all day, every day.
One blogger wrote, "In terms of wearable technology, the Fitbit One Activity Plus Sleep Tracker device far exceeded what I was looking for! The features and tools make me feel like I have an in-home fitness companion! In the weeks that I've been using it, I have developed a new-found passion for pushing myself to reach my desired goals and to be disciplined in my health behaviors." The entire review of her experience with the Fitbit can be found here.
With help from these 5K training apps, anyone can do well in their next 5K and even move up to a 10K. It's time to take that race off the bucket list and get out there and run!
For more Verizon Wireless news, subscribe via RSS feeds in the right rail.
Photo Credit: jacsonquerubin via Compfight cc