65% of Americans traveling outside the U.S. will use mobile data to check in with loved ones back home
65% of Americans traveling outside the U.S. will use mobile data to check in with loved ones back home
You can now be connected in 100+ countries with Verizon TravelPassSM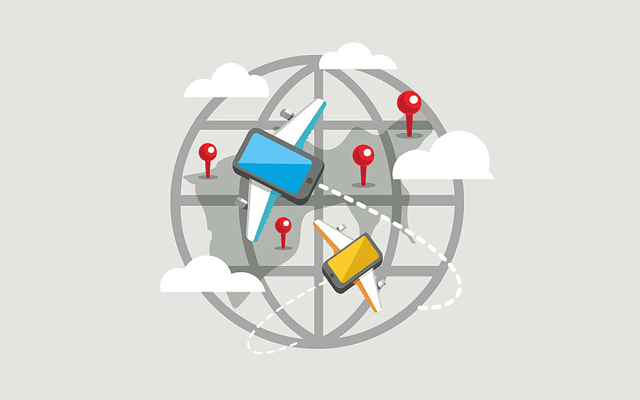 A new survey reveals one in three Americans is planning to travel outside of the U.S. in the next year. Of those traveling internationally, a whopping 80 percent plan to use their phone and data on their phone with 65 percent checking in with loved ones at some point during their trip, according to a new survey released today by Verizon.
Here's some good news for world travelers, taking your phone with you just got easier. TravelPass is now available in more than 100 countries, letting you use your existing voice and data plan outside of the U.S. for as little as $2 per day, per line* to talk, text, surf the web and more.
"When traveling abroad, Americans are all about staying connected to those back home, looking up directions and posting photos onto social media through the use of mobile data," said Rob Miller, vice president of consumer pricing for Verizon. "TravelPass has been in the marketplace for less than six months and already we have seen a sharp spike in usage, as it allows people to use their device outside of the U.S. as they would back home."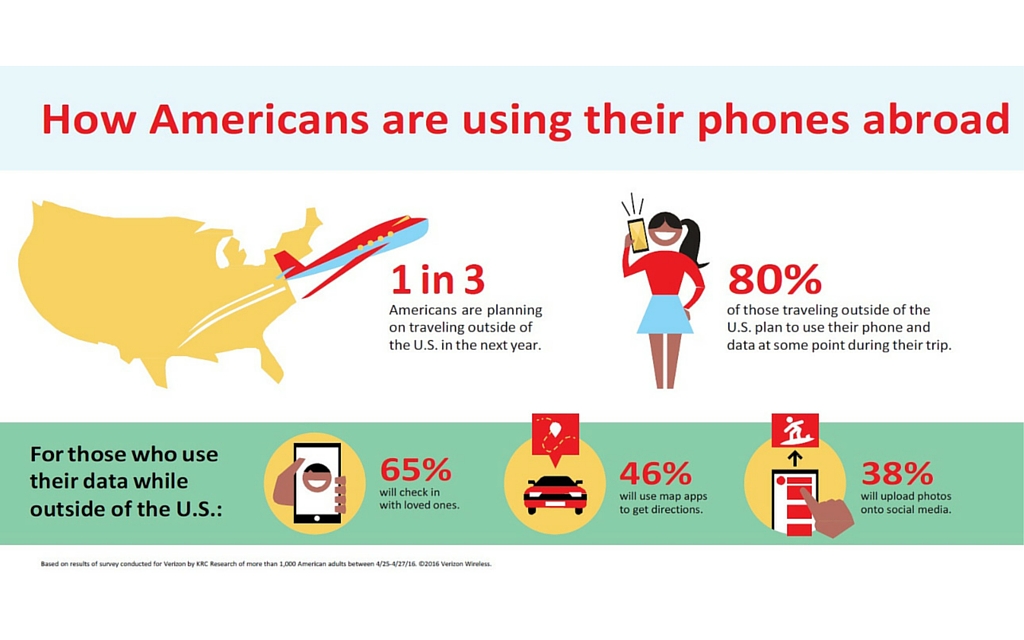 A Surge in International Data Usage
In March of 2015, Verizon customers outside the U.S. averaged 18 MB per day. In March of 2016, that number jumped to 67 MB per day for travelers with TravelPass—a 272 percent increase in the average data usage per day.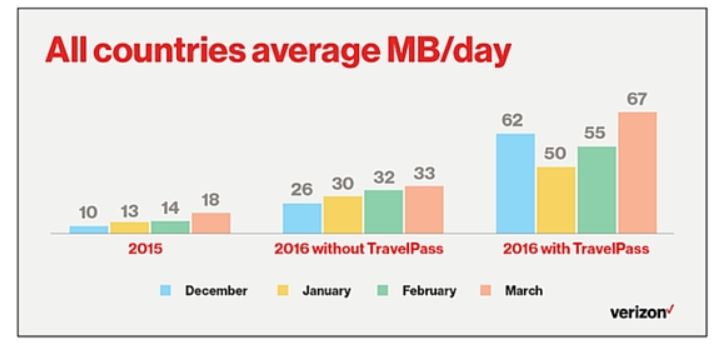 So where are TravelPass users jetting off to? Since its launch in November 2015, the top 10 visited countries by TravelPass users include: Mexico, Canada, United Kingdom, Italy, France, Spain, Germany, Jamaica, Australia and Israel.
Top-visited country Mexico has seen a remarkable 880 percent increase in the average data usage per day for travelers with TravelPass, from 5 MB per day in March of 2015 to 49 MB per day in March of 2016.
Canada has seen similar data usage year-over-year growth. In March of 2015, Verizon customers averaged 8 MB per day. In March of 2016, that number jumped to 80 MB per day for travelers with TravelPass. That's a 900 percent increase in the average data usage per day.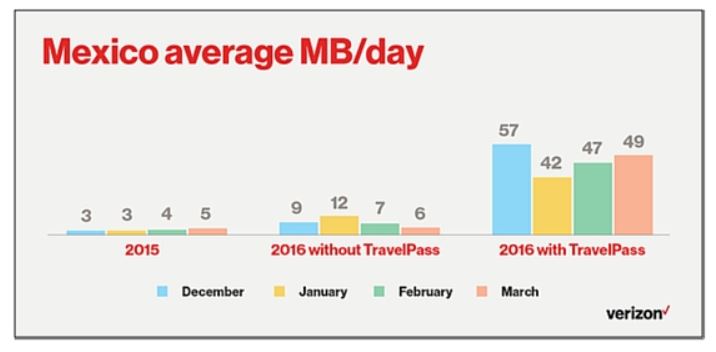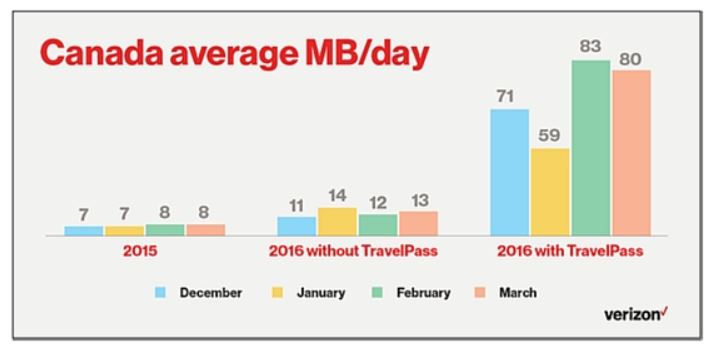 To sign up for TravelPass, visit MyVerizon.com and select "manage international services" or use the MyVerizon app on your phone to activate TravelPass before embarking on a trip. Once at your destination, you'll receive a text message welcoming you to the country and reminding you of the service and the daily fee: $2 per 24 hours in Mexico and Canada or $10 per 24 hours in 100+ other countries.
The daily fee is only charged on the days you use TravelPass in one of the countries where it's available. TravelPass activates when you make or receive a call, connect to a data service or send a text. Another daily session will begin once you make or receive a call, send a text or use data after the 24-hour period expires. You can keep TravelPass on your account at no charge.
TravelPass countries (new countries shown in bold are effective May 5, 2016):
North America: Canada, Mexico
Caribbean, Central, South America: Argentina, Anguilla, Antigua & Barbuda, Bermuda, Aruba, Barbados, Belize, Bolivia, Bonaire, Brazil, British Virgin Islands, Cayman Islands, Chile, Colombia, Costa Rica, Curacao, Dominica, Dominican Republic, Ecuador, El Salvador, French Guiana, Galapagos Islands, Grenada, Guadeloupe, Guatemala, Guyana, Haiti, Honduras, Jamaica, Martinique, Montserrat, Netherlands Antilles, Nicaragua, Paraguay, Panama, Peru, Saint Barthelemy, Saint Eustatius & Saba, Saint Kitts & Nevis, Saint Lucia, Saint Maartin/Saint Martin, Saint Vincent & the Grenadines, Suriname, Trinidad & Tobago, Turks & Caicos, Uruguay, Venezuela.
Europe, Middle East: Albania, Austria, Belgium, Bulgaria, Croatia, Cyprus, Czech Republic, Denmark, Estonia, Finland, France, Germany, Greece, Guernsey, Hungary, Iceland, Ireland, Isle of Mann, Israel, Italy, Jersey, Latvia, Liechtenstein, Lithuania, Luxembourg, Macedonia, Madeira and Azores, Malta, Netherlands, Norway, Palestinian Territories, Poland, Portugal, Romania, Serbia, Slovakia, Spain, Sweden, Switzerland, Turkey, Ukraine, United Kingdom of Great Britain and Northern Ireland, Vatican City.
Asia Pacific: Australia, Hong Kong, Republic of Korea (South), Papua New Guinea, Malaysia, New Zealand, Samoa, Singapore, Taiwan, Thailand, Tonga, Vanuatu.
Before traveling abroad, you should enable International Services on your account to ensure your plan is configured to make and receive calls while overseas. There is no additional charge to add International Services to your account.
Survey Methodology
This nationwide survey was conducted online by KRC Research on behalf of Verizon. Interviews were conducted between April 25-27, 2016, among 1,015 U.S. adults ages 18+. The data were weighted by gender, geographic region, race, income and education to accurately represent the population.
*Taxes and fees apply; qualifying MORE Everything or Verizon plan and compatible 4G world phone required.
Trevor Thomas is Verizon's national corporate communications manager for wireless pricing, plans and promotions, where he writes about his own personal experiences with wireless technology.