A Geek's Guide to Holiday Tech Gifts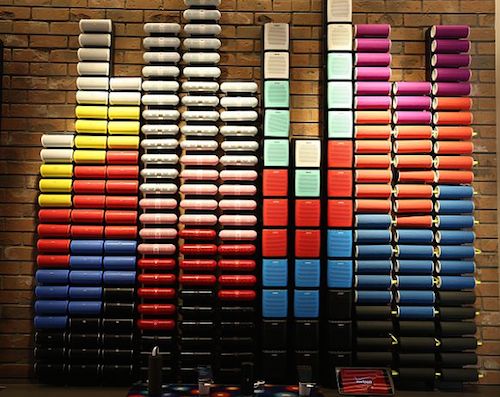 This is a guest post from Chicago RedEye's "resident geek" Elliott Serrano. Disclosure: Elliott is currently demoing a Samsung Galaxy Note 4.
With the holidays upon us and the pressure of getting that perfect gift for the geek in your life mounting, you may want to take a look at some of the tech that's on display at the new Verizon Destination Store on Michigan Ave. in Chicago. I took a stroll over there and got to check out some fun holiday tech gifts that I'd sure like to find under my Christmas tree this year!
The Parrot Rolling Spider Drone
"Spider-drone, spider-drone, does whatever a spider-drone can..." Sorry, I couldn't help myself...
The Parrot Rolling Spider Drone is a fun gadget that packs a punch like its big brother, without the larger price tag. I had fun getting this little fella to do some of the programmed jumps and spins that are built into the mobile app. The wheels allow the drone to move along floors, walls and ceilings - like a spider - without colliding. It also has a mounted camera that can record video as it flies, viewable on your mobile device.
Combine this with a handful of action figures and you may have a YouTube blockbuster in the making!
ADIDAS Soccer Ball
If you're a fan of the "beautiful game" and would like to improve your ball-handling skills, the Adidas MiCoach Smartball can serve as your virtual coach. Using built-in sensors - just like the ones used by FIFA during the World Cup - the MiCoach Smartball app lets users know the speed and effectiveness of their kicks. It can also tutor players on ball-handling fundamentals and "trick kicks."
The price point compares favorably to hiring a soccer coach for your aspiring soccer striker who has dreams of scoring the winning goal in the MLS Championship game!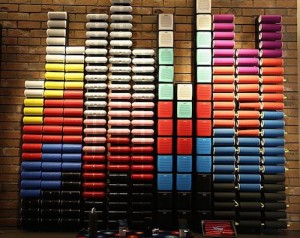 The Chicago Verizon Destination Store features a wall of Bluetooth speakers to choose from.
Bluetooth Speakers
Where's the party? The party is wherever YOU are when you've got your mobile device streaming tunes and one of these Bluetooth speakers!
With prices ranging from $39.99 for the iLuv and iHome models, to $299 for the Bose model, audiophiles of all ages can find a speaker that fits their needs and budget.
I'm partial to the Bose Soundlink myself, so I hope Santa remembers I've been very good this year!
Samsung Galaxy Note 4
Samsung continues to impress me with their Galaxy line of mobile devices, my newest fave being the Note 4. The newest in the line of "phablets" that are gaining popularity among consumers, the Note 4 packs a wallop as far as processor speed, and it has a generously-sized screen that makes it great for watching video and reading webcomics!
Confession: I'm terrible with directions and have been known to get lost in my own neighborhood. So you could imagine my surprise that the Note 4 allows me to use Google Maps and take a phone call simultaneously! The screen size accommodates both the GPS map along with the window that contains the caller's number and avatar.
The front-facing camera makes for superb selfies, if you're into that sort of thing...
...Which I am.
Custom Cases
So you've got a new mobile device and you want to make sure it's protected, but you also want to give it a bit of personality? The Verizon Store can make you a custom case, using a design of your own creation, and have it ready for you within the hour!
The Incipio cases are scratch-proof, sturdy and have vibrant colors. You can select the style and color you want, and even have a custom image printed on it. Have a photo from your Facebook page that you'd like to use? No problem. Have a favorite superhero or cartoon character that you'd like to have on there? Your wish is granted! You can even take a photo of yourself, alone or with a friend, in the green-screen studio located in the store, and use that as your decorative graphic!
It makes taking a stroll over to the Verizon Store on North Michigan Ave worth the trip, don't you think? What holiday tech gifts are you excited about?
For more Verizon Wireless news, subscribe via RSS feeds in the right rail.