Android vs. iOS 7: What You Need to Know if You Make the Switch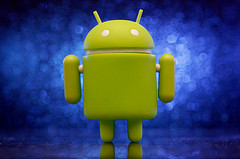 Have you been loyal to the Android Operating System? Up until about a month ago, I strictly used Android. From the first Droid smartphone to the Samsung Galaxy Note 3, I have been devoted to Android for as long as I can remember.
Recently, I realized I needed to spread my wings and fly. I needed something new. I needed to attempt using an iPhone. The tech message boards seem to think you have to make a choice (Android vs iOS) and stick with it forever. Being a lifetime Chicago guy, Cubs versus Sox comes to mind.
Now that the latest software update to iOS 7 includes multitasking and a legit pull down (and up) menu, I figured it was finally time to make a change. I jumped in head first and made the iPhone 5s my main line about a month ago.
Here are five things new iPhone users need to understand if they've recently made the switch from Android to iOS:
You will get used to the smaller size. I get it - Your Android phone had a really big screen and now you have a four-inch screen. At first, it might seem weird, but after three or four days, you will find it's a fresh change of pace and easier to fit in your pocket.
The home button doesn't always take you all the way home on the first press. On Android, when you press home, it stops whatever you are doing and takes you back to your home screen. On iOS 7, depending on how deep in the app you are, it may not take you all the way back to the home screen. Don't worry. A second press will get you there.
Double tap the home button to multitask. This is one of my favorite features. A simple double tap of the home button brings up a nice clean look at which apps you have open and what those apps are doing.
Control center is a quick, one-stop shop for common settings and useful apps. Swipe up from your home screen and control center is there displaying lots of useful settings and apps. Settings for WiFi, Bluetooth and Airplane Mode, along with screen brightness, are right at your fingertips. Controls for five of my favorite apps are also in the control center. I can launch Spotify, Flashlight, Timer, Calculator and Camera all from the control center.
A super fast way to silence your phone is to flip the lever above your volume key. This is another favorite of mine when I go to a meeting, conference call, movie, or when I want some family time. A simple flip of that switch and my phone is now silenced.
That's a quick rundown of five things I learned after a month with an iPhone 5s. What's your take on Android vs. iOS 7? Which iOS 7 features are your favorite?
For more Verizon Wireless news, subscribe via RSS feeds in the right rail.
Photo Credit: JD Hancock via Compfight cc