Avon Lake City Schools Embrace Bring Your Own Device Program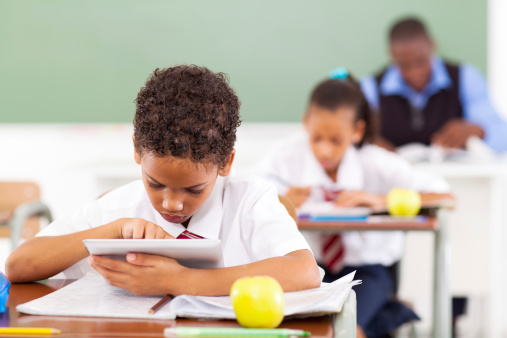 Avon Lake City Schools Superintendent, Robert Scott, first introduced the Bring Your Own Device (BYOD) initiative to Avon Lake High School in January 2012 as part of the district's long-term technology plan.
Teachers at the middle school and intermediate school accessed the system for classroom use at the program's launch. All campuses, K-12, had access to the new system in the fall of 2012 (use at the elementary buildings are still restricted, due to the age of the students).
We sat down to speak with Superintendent Scott about the BYOD program and its benefits in the classroom after the first year.
Q: Why did you decide to introduce the BYOD initiative?
A: We have had a strong technology presence in our buildings for a number of years. For example, all our classrooms had interactive white boards by 2007. In 2010, we had several pilot projects, including the use of notebooks in the classroom, and in 2011 we piloted different types of tablets. At many schools, we were trying to decide if a one-to-one device-to-student ratio was worth the investment.
At the same time, we were seeing a tremendous increase in smartphones popping up in the classrooms. Students were growing up in a world that revolved around access to technology. Acquisition of that knowledge has been, and will continue to be, an evolving process. So, in 2011 we lifted all bans on cell phones.
We started to understand that you must use every tool possible to meet the educational needs of all students. Since technology became such a large part of our students' lives, we needed to use our energy on embracing the students' world, rather than fighting it.
Q: How are teachers and students using devices in the classroom?
A: We have not mandated the use of BYOD for teachers in the classroom. Teachers who choose to participate treat the technology just like any other resource – if they're using them in class, the students have the tablets or smartphones out, and if they're not, the students need to keep them put away. We have almost no discipline referrals now for misuse of phones.
Q: What successes have teachers seen since its introduction?
A: Successes continue across all grade levels as we move into our second full year of BYOD. I once walked into a sixth-grade classroom during a rainy-day recess and every student was reading. The interesting thing was that four students were using traditional books, 19 were reading e-books on devices and three students with special needs had headphones plugged into devices and were listening to the books as they read along.
Additionally, our science classes are leading the BYOD initiative. Labs now revolve around technology as a tool.
Many of our classes are "flipped" classrooms, instructionally. This new model of learning inverts traditional teaching methods by delivering instructions and lessons online and outside of the classroom, allowing students to watch lessons and digest information at their own pace. Class time is then used for "homework." Discussion and engagement led by teachers is now able to play a larger role in the classroom.
Q: How have parents responded to the program?
A: Parents appreciate the communication and see the schools as being much more open to new methods of learning. Even negative issues such as bomb scares, gun rumors, staph infections, etc. are handled more effectively as we are now able to push information to more sources quicker. Parents see the need for embracing technology in the real world and really appreciate the school system's efforts in preparing their students for the future.
Q: What piece of advice would you give to other school administrations that are considering adopting a BYOD program?
A: Keep planning ahead, keep training the staff and keep your infrastructure up to date. Do not pin yourself into a corner by letting the hardware dictate your program – flexibility is key.
Q: How do you see technology affecting education in the next 10 years?
A: I will start where I ended above: Flexibility is the key. I believe technology will continue to be a key resource for teachers. As they become better trained in the use of technology and as technology continues to evolve to meet the instructional needs of teachers, it will be a vital part of successfully educating all students and their individual learning styles.
Superintendent Scott recognizes the value of bringing mobile technology into the classroom. It gives educators additional tools to deliver instruction in an engaging way. It makes it easier for parents to collaborate with teachers and stay on top of their kids' homework. He's not alone.
Last year, the Verizon Foundation launched Verizon Innovative Learning Schools, an innovative professional-development program for teachers in underserved areas to incorporate mobile technology in their classrooms to support teaching in science, technology, engineering and math (STEM). The program is designed to make learning more appealing to students and to set them up for success in the digital world.
The evolution of technology in the classroom is creating amazing opportunities for both the teacher and student. Seeing how much it has advanced in just the past decade gives us a good sense of where technology and education is headed.
For more Verizon Wireless news, subscribe via RSS feeds in the right rail. to subscribe to all posts, or individual state news.