Want to Become a Yogi? The Best Yoga and Meditation Apps Will Get You Started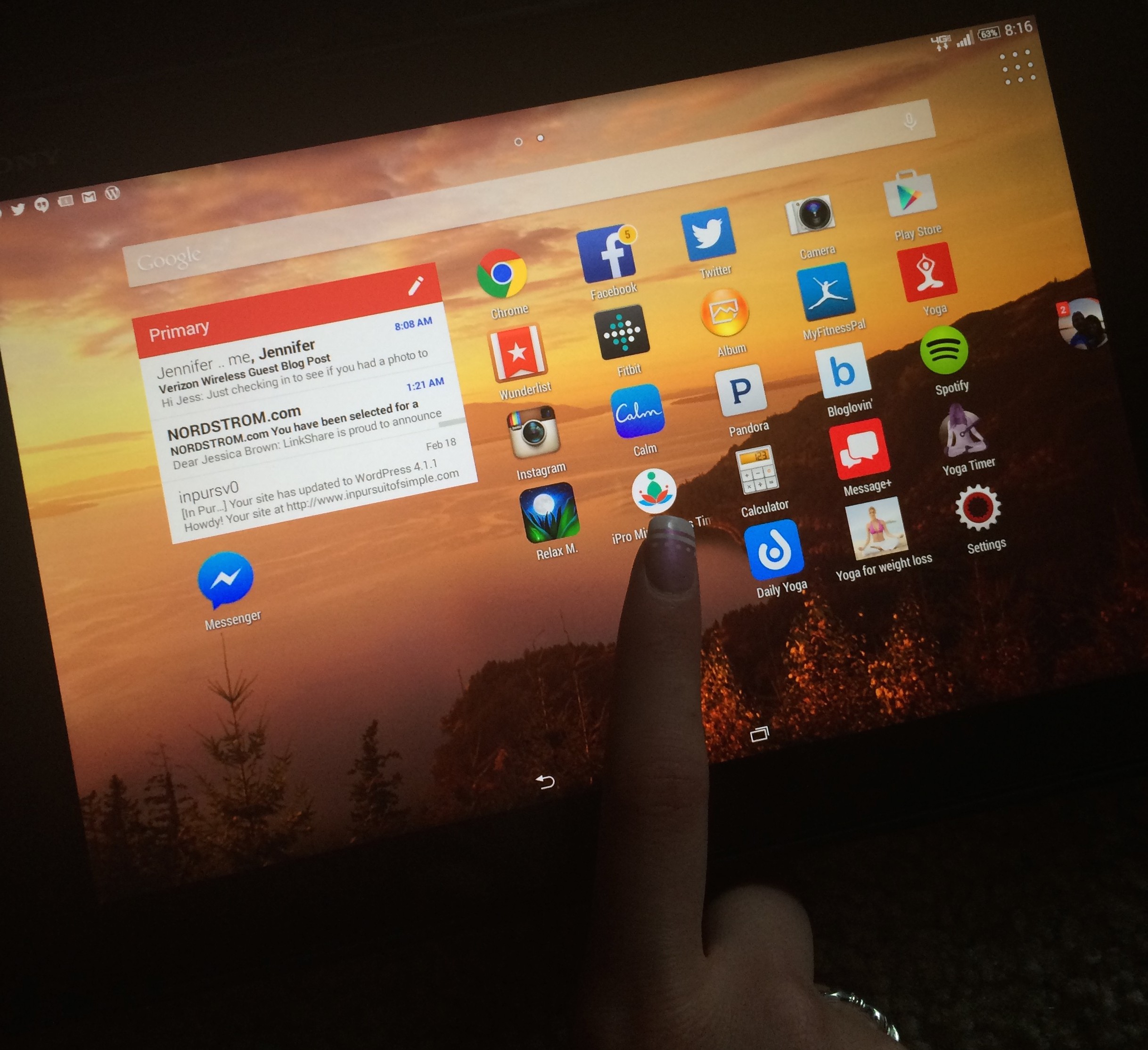 This is a guest blog post from Jessica Brown, owner of J.Charlene Copywriting and blogger at In Pursuit of Simple. Disclosure: Verizon loaned Jessica a Sony Xperia Z2 tablet.
A year ago, an anxiety disorder that I've had since I was a small child resurfaced in a big way. Not wanting fear and worry to overtake my life, I explored new and interesting ways to relax. I had Reiki done in my living room. I went to an acupuncture happy hour. I signed up for a massage membership. I spent months diving into the world of natural medicine, and in the end, I found two things that could help with my anxiety that weren't difficult and wouldn't cost a fortune: Yoga and meditation.
I'm sure you've heard the word "mindfulness" thrown around lately. It's a buzzword in the media. Everyone from Oprah to Sir Paul McCartney credit their mental health and general well-being, in part, to a regular mindfulness meditation practice. Mindfulness requires a desire to focus on the present, yoga requires a mat, but there is one tool you might not think of right away when it comes to reaching pure Zen.
A tablet.
I was lucky enough to score a Sony Xperia Z2 from Verizon to help me with my journey to a more mindful life. I got engaged in January and will launch my own company in March, so there are plenty of things to stress about! But when the tablet arrived on my doorstep, it was step one of becoming a mindful Mrs. and worry-free writer. The first thing I thought when I tore open the box? "This screen is AMAZING."
The 10.1 inch, crystal-clear screen makes the tablet small enough to slip into my purse, but large enough that I don't need to squint to watch a video. It's perfect for a busy blogger on the go, and I was surprised at how much it helped me accomplish. But in all the madness of launching a business and planning a wedding, the biggest thing that I've used the tablet for is keeping yoga and meditation a priority.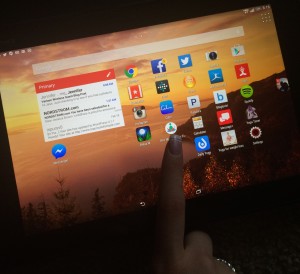 I love being able to use my tablet for yoga apps - there are so many to choose from.
With a stand-up case, I was able to complete a yoga session, even as I folded and twisted, completely on the Xperia Z2 tablet! The real perk of being able to access resources quickly, easily and in great definition on the Xperia Z2, however, is that you have a huge library of yoga and meditation apps in the palm of your hand. Literally.
Here are my favorites, all free:
When I first started meditating, I knew I wouldn't be able to do it without some help. While some people are able to clear their mind and sit in silence without letting their thoughts intrude, I am much more easily distracted than that. So I choose to do guided meditation. Whether you choose the guided route, Calm.com has you covered. You choose how long you would like to meditate for (up to 15 minutes), background noise such as the wind, soft music, or a crashing ocean, and whether you would like your session to be guided. Calm.com has short sessions, which makes it easy to fit into your day -- like on a lunch break or first thing in the morning. The app will even remind you when it's your typical meditation time!
Like Calm.com, Headspace provides you with guided meditations, in a fun and animated package. Headspace focuses heavily on teaching you how to meditate. You can choose the session that works for you based on your mood or your lifestyle. Headspace splits meditation practices into two different categories: Calming meditation and insight meditation. The first puts you into a state of relaxation through concentration, while the second helps you to train your brain.
Anyone who travels often needs to download this app, pronto! MINDBODY Connect helps you find spas, yoga studios, gyms, personal trainers, salons and wellness centers nearby - wherever you are! Think of it as Google Maps with your best interest in mind.
If you're looking for an app that comes with a lot of support, then Yoga.com may be for you. Not only do you get access to online yoga classes, but you get access to a huge community of yoga lovers, breakdown of yoga poses, articles to help you perfect your practice and an online shop for you to order all your necessities.
Being mindful in the midst of madness can be difficult, especially with visions of centerpieces and business plans dancing through my head. But it's nice to know I have the yoga and meditation apps to keep calm and carry on with me at all times with my Verizon tablet!
For more Verizon Wireless news, subscribe via RSS feeds in the right rail.