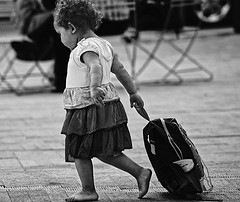 For the last 14 years, I've enjoyed every minute of my time working as part of the Verizon Wireless Midwest Area public relations team. Although having access to the latest and greatest devices on the market and backstage access at technology tradeshows are perks that come with being a PR manager for Verizon, what I treasure most is the relationships I've built with my counterparts, media, bloggers and, of course, our customers.
Whether I was coordinating HopeLine® from Verizon events to support domestic violence awareness and prevention programs, presenting educational grants to help schools provide innovative learning experiences to students or connecting with bloggers interested in using mobile technology to fuel their personal passions, I've had the opportunity to meet some pretty amazing people along the way—all of whom hold a special place in my heart.
That's why it's bittersweet for me to announce that I'll be leaving Verizon Wireless to take the next step in my career journey, starting January 16.
I'm grateful for all the experiences and opportunities Verizon has given me, and since the show must go on, I'd like to connect you to my colleague, Paul Ulreich (@VZWpaulu). He'll be filling in for me as PR/social media lead for Verizon in Michigan, Indiana and Kentucky.
Around here, we refer to Paul as "The Uber User" because he always has the scoop on the latest advances in mobile technology and can troubleshoot virtually anything related to our products and services. If you haven't had a chance to introduce yourself to Paul yet, he'd love to hear from you. Please follow @VZWPaulu so you can continue receiving up-to-date news and information on Verizon Wireless.
I want to express how thankful I am for the opportunity to have been part of the Verizon MWA PR team. It has been a pleasure working with my fellow colleagues to share Verizon stories, and I cherish every experience I've had.
To everyone who is part of our MWA community, thank you for your support! I look forward to staying in touch with as many people as possible. You can follow me on Twitter at my personal handle, @PurpleEnginePR.
For more Verizon Wireless news, subscribe via RSS feeds in the right rail.