Brandy Butler From LoveMadeLifestyle.com Reveals What's in Her Bag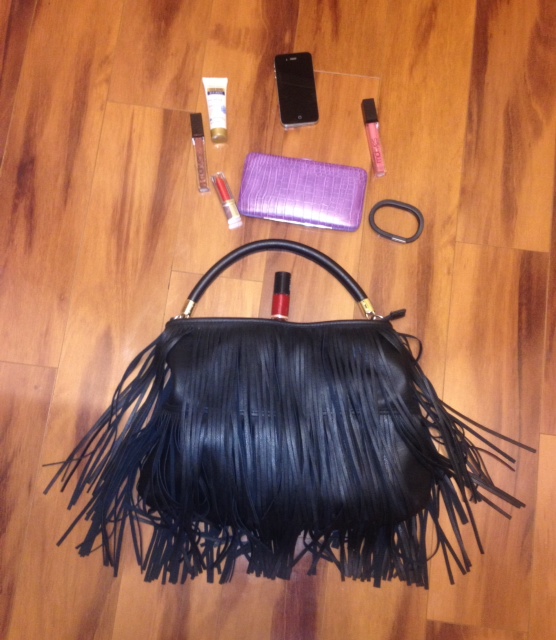 This is a guest blog post from Brandy Butler, St. Louis, MO based blogger, podcaster and speaker who writes about empowerment, lifestyle, relationships and everyday tech. When Brandy is not helping her kids with homework, changing diapers on her 9-month old or making plans to take over the world, you can find her at LoveMadeLifestyle.com and on Twitter at @belovemade.
When I was approached by Verizon to share what I keep in my bag, I was a little nervous. While I love to wear a cute and snazzy bag, usually my purse's contents are a hot mess! But just for today, I'll go ahead and openly share the horror what's in my bag.
The Bag
My current bag is actually quite cute. I am rocking a black fringed bag that I copped from H&M. It's a very frugal and fashionable piece, and my favorite feature is the leather rope handle with gold accent clasp. It is large enough for me to fit everything I need in it. I probably wear this bag more than I should, but it's cute and functional, making it my fashion staple of the moment.
The Gear
If you're an active mom like me, you probably already know how important it is to have a packed bag on the ready. Even though I sometimes have the tendency to cram everything in my bag at the last minute, it's usually filled with a couple of tech devices, as well as a few convenience items to make sure I'm feeling and looking my best while on the go.
So let's get into my MUST HAVES that I carry in this bag:
Verizon iPhone 4s
UP by Jawbone
Wallet
Trident gum
Motives & Maybelline lip gloss (pinks, reds, and chocolaty mauve tones for now)
Goldbond hand Lotion (have to zap winter ash)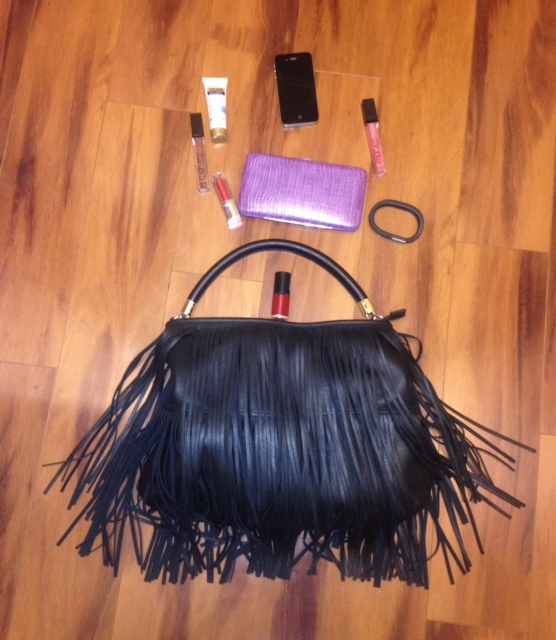 I can't imagine a day without my Verizon iPhone 4s. It does everything I need. It's my phone, my calendar, my alarm clock, my camera, my email, and the list goes on and on. One of my favorite things to do is to use my iPhone to listen to spiritual, motivational and business podcasts on my daily commute.
My secret productivity app arsenal consists of Evernote, Dropbox, Buffer and Feedly. Evernote and Dropbox are my go-to apps that help me collaborate and share files with other people remotely. Buffer and Feedly are essential in my social media communications. All these apps are free on both Android and iOS platforms.
I'm using the UP by Jawbone bracelet to track my weight loss and fitness goals. I love how it works seamlessly with the iPhone, and my activity points are automatically synced. The only things that I manually input are my meals and mood. The UP by Jawbone is one pretty slick gadget and the gamefication aspect makes fitness fun!
For the most part, I'm a simple tech girl; I don't require all the bells and whistles. I favor user-friendly devices and apps that are highly functional. The next time I show you what's in my bag, the Samsung Galaxy Camera will hopefully be included (drops strong hint for husband).
At the end of the day, as long as my bag contains my iPhone and a tube of lip gloss, I'm ready for the world!
What tech is currently in your bag?
*Disclosure: We loaned the UP by Jawbone to Brandy to test out.
For more Verizon Wireless news, subscribe via RSS feeds in the right rail.