Building an inclusive society, one person at a time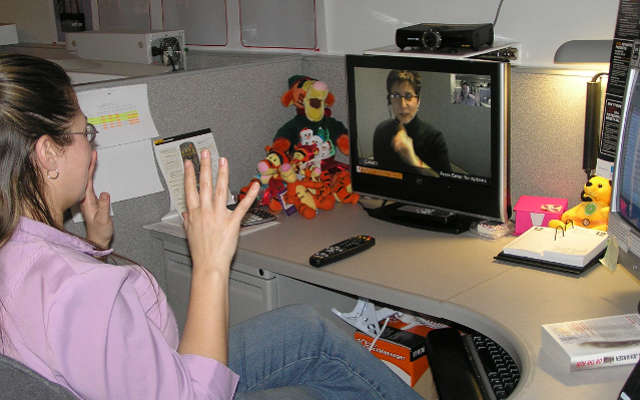 Twenty-five years ago, when President George H.W. Bush signed the Americans with Disabilities Act into law, people called it "landmark legislation." What it achieved for the quality of life for the disability community – from captioning for TV shows to curb cuts and ramps for easier access to buildings – was important. But there was much more to be accomplished. What made the law "landmark" was that by breaking new ground for equal access, the ADA inspired and enabled many new policies and innovations, not only for people with disabilities but society at large.
For example, on October 8th, Verizon and many of the other groups that celebrated the silver anniversary of the ADA last week, will mark the five-year anniversary of the Communications and Video Accessibility Act (CVAA), which has measurably enhanced smartphone and video services for people with disabilities. That legislation required over two years of shared advocacy before Congress. We worked closely with the disability community to negotiate provisions and advocate for passage on Capitol Hill. We are proud to have helped shape accessibility policies, and we have continued these cooperative engagements to this day.
 Actually, Verizon's focus on meeting the needs of the disability community precedes the ADA. Approximately 54 million Americans have at least one disability, and more than 20 million families in the United States have at least one family member with a disability. So in 1987 we first instituted Universal Design Principles, and have used those principles ever since to promote the introduction of accessible products and services to meet their needs.
For example, Verizon provides dedicated customer service centers to help our wireline customers in the disability community identify the best products and services to suit their needs. There, our groundbreaking American Sign Language (ASL) video service allows deaf customers to communicate one-on-one in their preferred language with a customer service representative, and we are rolling out a similar service for wireless customers soon. In fact, the FCC recently replicated this service in their call center.
Much of our focus has been on developing products and services so that everyone can participate in the mobile future: text-only wireless plans for deaf and hard of hearing customers, a 65+ calling plan, and senior-friendly mobile phones. Earlier this year, with assistance from the American Foundation for the Blind and the American Council of the Blind, Verizon exclusively introduced Velasense, a suite of applications for Android devices that assists the blind and visually impaired with everyday tasks and supports higher levels of independence.
Most of us take smartphones for granted, but using a touchscreen is nearly impossible for many with physical disabilities. Verizon is working with Sesame Enable on a movement-tracking phone, which will bring independence to consumers with debilitating illnesses, such as severe arthritis, MS and Parkinson's. The Sesame Phone, designed for use straight out of the box with pre-installed software, was a Verizon Powerful Answers awards winner, and was heralded by the American Association of People with Disabilities and United Spinal Association.
This is just a sampling of what Verizon has been doing in partnership with a wide group of stakeholders in the disability community, and we often hear from our friends and partners – and from our customers – that they appreciate our efforts. But from our perspective, given that we're a company deploying technologies that enable a truly inclusive society and empower everyone to more fully participate in this digital age, our actions aren't landmark. They are just the mark of a company focused on meeting the needs of all of our customers every day.