Butler Blue III Gets Techie on the Road During Big Dawgs Tour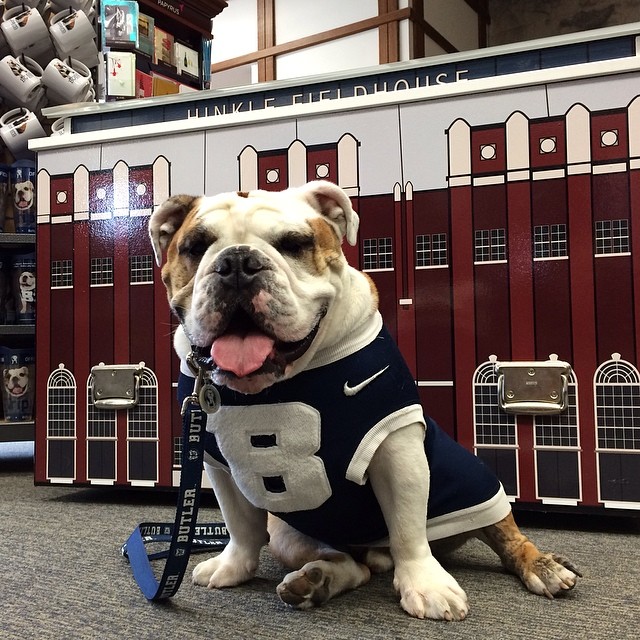 Our blog has literally gone to the dogs! We're featuring an update from our last post about the famous Butler University mascot – Butler Blue III, aka Trip – from his recent VIP road tour. Disclaimer: None of our paws were involved in the writing of this blog post. Trip also shared some video fun from Butler's Bulldog Jog using the GoPro Hero3+ we loaned him.
At Butler University, it's not enough to have a real, living English bulldog roaming the campus on a daily basis. No, at Butler it's about taking said bulldog mascot on the road and sharing the Butler Bulldog spirit with all.
Well, that bulldog mascot is me, Butler Blue III, and with our membership in the BIG EAST Conference, each basketball season I get to pack my bags for great destinations like New York, Washington D.C., Philadelphia and Chicago.
We call it the Big Dawgs Tour, and from January through March this year, the Built Ford Tough Butler Blue Mobile covered more than 5,300 miles, across 13 states, while taking me to see people, places and things that would make most people hide their bucket lists in shame.
"Boldly going where no dog has gone before," seems to be the Tour's unofficial motto, and thanks to our friends at Verizon Wireless, we were able to virtually take our fans and followers along for the ride.
You see, the Big Dawgs Tour has always been about engagement, whether in the fur or in cyberspace. In other words, things like photo opportunities and meet-and-greets are cool, especially when you post them to your social networks for everyone to see and experience.
Anyway, prior to this year's final leg of the Tour, the nice folks at Verizon Wireless offered up some tech toys for my human counterparts with opposable thumbs to take on the road. That ultimately meant we had more devices and tools at our disposal to do things like post to our social networks, map our route and just get work done.
So we set off in March with our new gadgets from Verizon Wireless, bound for New York City and the BIG EAST Conference Men's Basketball Tournament at Madison Square Garden. And naturally, as Internet junkies, the first thing we did was fire up the Verizon Jetpack 4G LTE Mobile Hotspot.
The hotspot provided us access to the Internet pretty much anywhere cell signal could be received. This allowed us to run a live webcam from inside the Blue Mobile for those who enjoy watching me sleep. Of course, the hotspot also allowed us the ability to readily post tour updates to our favorite social networks like Twitter, Facebook, Instagram, Flickr, Pinterest and Snapchat.
Speaking of posting to social networks, we did just that with the latest iPhone 5s, which allowed us to take some pretty impressive photos in places like Times Square, on the set of FOX & Friends and courtside at Madison Square Garden. Although, I think the most popular footage came from a pre-tour bathing session where the iPhone's slow-motion capabilities were put to task.
Verizon Wireless also sent us on the road with a couple of tablets, allowing us to travel light, remain mobile and stay connected. My human counterparts even took the Verizon Ellipsis 7 and 4G LTE Samsung Galaxy Tab 2 10.1 inside Madison Square Garden and could work with ease from their seats thanks to the connectivity of the Verizon Wireless network. They're such nerds.
The only piece of equipment we regrettably didn't get to fully utilize on the road was the GoPro Hero3+ high-definition camera. The humans claim a lack of hands as the excuse, but they forget they could've just strapped it to my back!
At any rate, we waited until later in the month to have a little fun with the GoPro, breaking it out for Butler's 22nd Annual Bulldog Jog. If you like dogs, then you're going to like this footage, trust me.
On behalf of my fans and all who followed us on tour, I send my thanks to Verizon Wireless for loaning us some cool gear that allowed us to stay connected while we were away from campus. I have a feeling this could be the start of a beautiful relationship. Speaking of which, I hear the open road calling … see you out there!
For more Verizon Wireless news, subscribe via RSS feeds in the right rail.