#ButtsInSeats vs. #BigData: Top Indy Sports Teams Talk Fan Love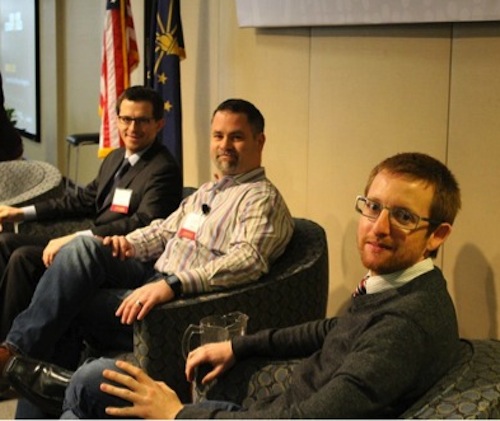 Digital marketing changed the game for sports teams. With a variety of audience platforms offering fans deeply personal connections and analytics tracking their every move, sports marketers have been at the forefront of trends in social media, content marketing, big data and more for years. It's not just about getting "butts in seats" as the saying goes, but about generating revenue streams by giving passionate fans and sponsors new ways to connect with one another and their favorite teams and players.
This recent Indy TechPoint event gave us some great insight into how sports pros operate and how they interact with their loyal fans via marketing gurus with Indy Eleven, Indiana Pacers and the Indianapolis Colts. Read on to see how technology plays a big part for everyone...
Tom Dunmore on Indy Eleven: Fans created passion before we created the team. They had a Facebook page, a fictional team with a name, scarves. They were committed to being evangelists. That's something you can't buy. We had that unfair advantage from the beginning. Fifteen years ago you couldn't even find a soccer game on cable. Digital was low cost and an easy way to get our message out. But we also did 200 road shows – one every other day. Our president would put it out on Twitter – where do you want me to go next? It might have been a bar in Kokomo and maybe we'd meet up with five of the most important fans and influencers. It wasn't just about digital. It was about community.
Dan Plumlee on the Indianapolis Colts: It was a few years ago that I showed senior management some photos of fans I took in the stadium. It didn't matter what great halftime show we had. People were on their smartphones. We're integrating with that second screen experience. Verizon comes in and says – we'll give you all the bells and whistles. When you have 65,000 people tweeting, it can slow down. But Verizon has people in the press box watching all the time. Using iBeacon technology to check restroom line waits … those technologies are important. Our partners like Verizon make sure we're not just slopping up any equipment.
Rob Laycock on the Indiana Pacers: WiFi is expensive and our staff is constantly adding access points throughout the year. With YinzCam integrated into our app, we can email apologies for long waits. Ten years ago you had a lot of silos because you had emerging technologies that were unproven. Players were going on Twitter before (NBA) teams were. Big vendors like Ticketmaster took the locks off the data and allowed it to flow out for cross value. Now you can connect to fans letting them know how busy the restrooms area, offer a discount on a favorite jersey or let them know the shortest line at a concession stand.
This trio's hot trend picks:
Watch for the NBA commissioner to make bold moves on gambling technology.
There are no limits on the advances to improve the second-screen experience for in-stadium fans, including the NFL RedZone channel available on Verizon.
Hard-core fantasy players are generally using at least three devices at a time: a landline, a mobile phone and a tablet.
Even players who aren't using emerging technology, like the Colts' Andrew Luck's now infamous flip phone, parlays well with fans on social media.
Wish you'd been there in person? For great tech topic events in the Indy area, visit TechPoint.
Photo via @TechPointInd Twitter account.
For more Verizon Wireless news, subscribe via RSS feeds in the right rail.