Can an App Help Patients With Alzheimer's Disease Remember Their Families? These Middle Schoolers Say Yes!
Can an App Help Patients With Alzheimer's Disease Remember Their Families? These Middle Schoolers Say Yes!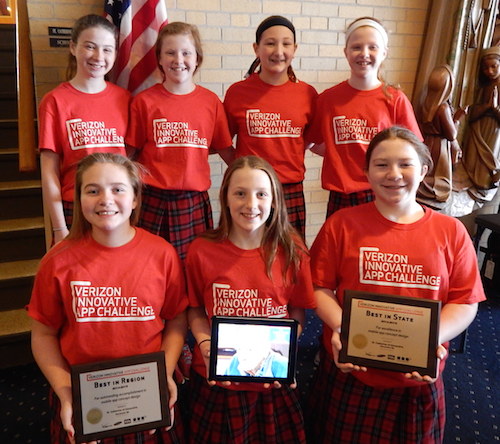 A team of seven sixth-grade girls from St. Catherine of Alexandria School in Oak Lawn, IL want to help people with Alzheimer's disease remember their loved ones with the help of a simple app. The story behind their thoughtful project became the "talk of the town" and was even featured in People Magazine and Huffington Post. While they received "Best in Region" status, it did not reach the Best in Nation award, but the girls hope they can still make it a reality.
The app they designed, called Remember Me, would serve as a memory book for people with Alzheimer's disease. Photos and descriptions of loved ones would be loaded into the app so the patient can be easily reminded who is who when their family or friends come to visit.
Many have been inspired by the team's altruistic vision, and no one could be happier than their principal at St. Catherine's, Catherine Hudson:
"… I am very proud of our sixth grade girls who accepted the Verizon Innovative App Challenge. Their idea for this app was born out of personal need - for Annie's family to help their grandpa who suffers from Alzheimer's disease - by creating the Remember Me app. The girls wanted to create a tool that would have facial recognition of loved ones and give a description of each family member, their age and their relationship to the Alzheimer's patient.
Annie Gainer, Isabelle Arquilla, Clare Murphy, Molly Fineran, Autumn Stanke, Ellen Murphy and Bridget Murphy have dreams of expanding their idea to the global community, not wanting anything for themselves except to help others. Selflessly, they're not looking for personal gain, only to help others through their simple yet thoughtful idea.
These girls used STEM (Science Technology Engineering and Math) principles to develop the idea under the supervision of their teachers, Mrs. Carolyn Anderson and Mr. Sean Haneberg. Their teachers were delighted to work with such creative minds and we all know the girls have a bright future."
For the entire story behind how the app helps patients with Alzheimer's disease, check out the girls' interview with Huffington Post reporter Kim Bellware.
For more Verizon Wireless news, subscribe via RSS feeds in the right rail.