Canary Home Security System – It's Always Watching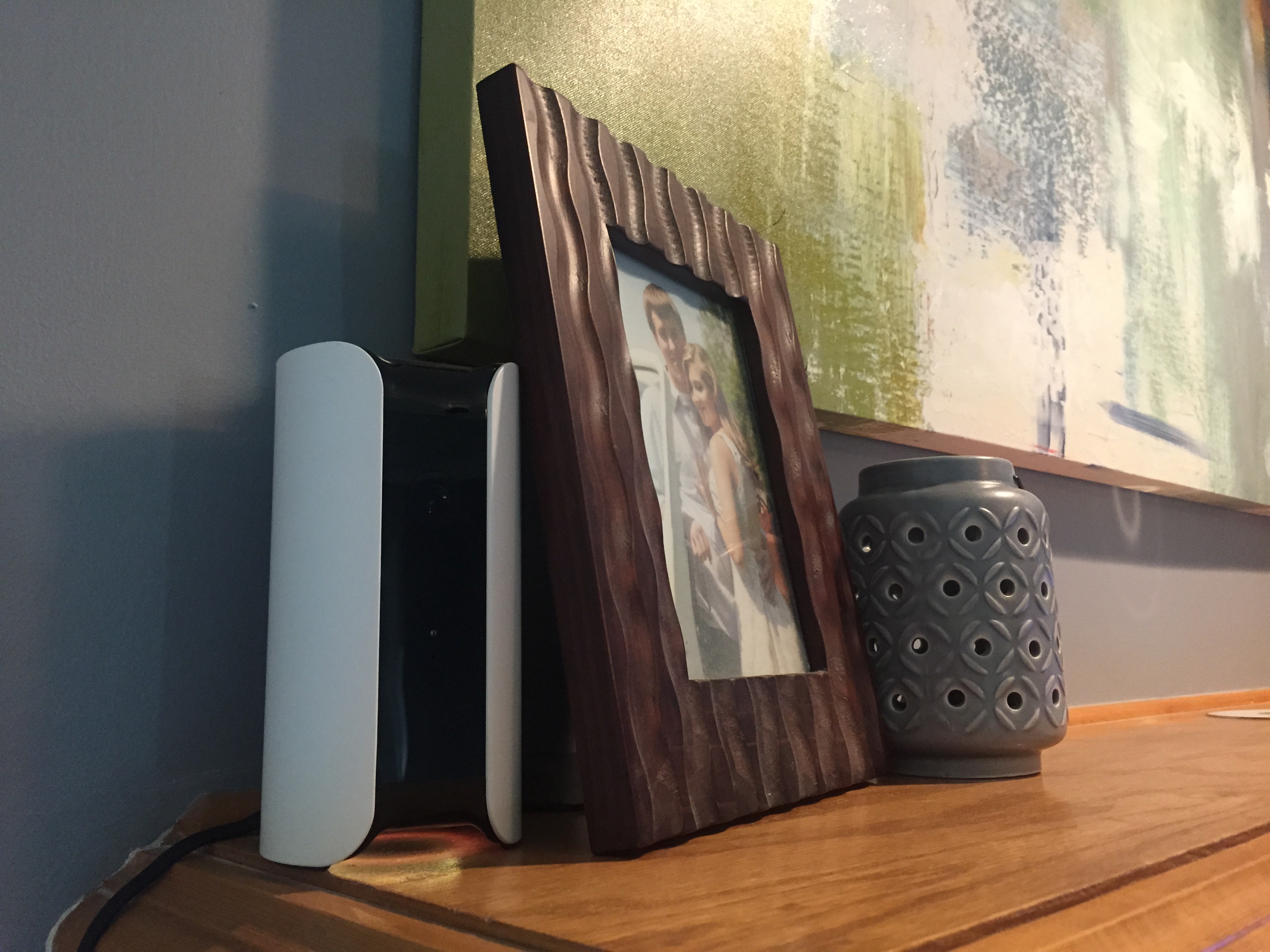 This is a guest post from Brandon Bosley, a Kansas City native, tech enthusiast and engineer who likes to use smart home devices to give his house a brain. Read on as Brandon discusses his experience and reviews the new smart home security device, the Canary. Disclaimer: We loaned Brandon the Canary to test out for this blog post.
I've always been into the latest and greatest technology. My passion for wireless technology started when I was in high school and was on the robotics team. From there, I was an official member of the geek squad and helped those in need of tech help with everything from how to restart their computer to fixing bigger issues, such as an infected device. My career choice fits with my technology passion as I now design power plants.
When Verizon asked me to test out the Canary Home Security System, I was excited. I had read reviews on the device and already knew about some of the features. First, let me tell you how it works.
The Canary is "super smart." Its algorithm is designed to learn your activity and routine. It connects to your smartphone and uses your GPS to know if you are home or away.
When it senses motion it automatically sends you an alert to your smartphone in the form of a video clip. You can watch the video clip or watch the camera live to see what is happening. Luckily, in my case every time we received an alert it was our playful dog running around the house!
The Canary Home Security System saves the video clips in the cloud so you can watch later or keep them on file for other uses. If something is awry, you can sound the alarm, call the authorities or alert a neighbor for help.
It also has the ability to monitor the air quality, temperature and humidity in your home. I'm a big fan of the Nest and I'm looking forward to the day these two smart home devices will connect machine-to-machine. My wife Bree and I also used the Canary to check on the pooch while we were away.
Pros of the Canary Home Security System:
Quick and easy set up: I think it took me about 60 seconds to get it up and running.
Sleek design: Its design makes it easy to put anywhere in your house without it looking out of place. I put it on my fireplace mantle to give it the best view of the house.
Peace of mind: You feel at ease knowing you'll be alerted if something is detected. You can also check the camera before walking into your home.
Things to know:
You might need more than one Canary to cover all entry and exit points of your house. For example, you might want to put one in your garage, basement and first floor of your house to be extra secure.
The camera has a 147 degree wide angle lens, but you still need to be strategic about where you place it to get the best coverage.
It does not yet integrate or connect to other smart home devices, such as the Nest Thermostat (but I have a feeling that's in the works!).
Overall, the Canary is a great device that can be used for more than just home security. I would recommend this product to anyone looking for a little added security in their home and anyone who likes to check on their home while away. Thanks to Verizon for letting me try out the Canary, and I can't wait to see how smart home technology keeps evolving.
For more Verizon Wireless news, subscribe via RSS feeds in the right rail.