Holiday Caroling Made Easy: If You Can't Carry a Tune, Carry Your Phone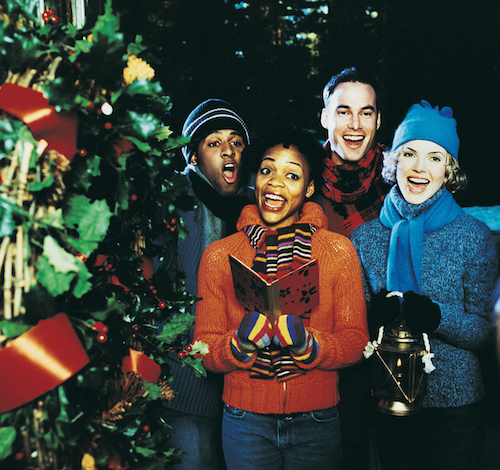 There are many traditions associated with the holiday season. But, one of the most social – and often most entertaining – is the practice of gathering friends together to sing familiar Christmas songs either in someone's home or as a group traveling in the neighborhood from house to house.
The concept is a good one, but invariably, there are people who do not know the words to all the songs, are musically challenged, or who have had too much egg nog during the pre-caroling party.
Here are a few tips that can help keep your holiday caroling adventure on track, in sync and in tune this year.
The Words
Everyone seems to be able to sing the first line to almost every holiday song written. The problem is, most songs have more than one line. This year, if you plan to go caroling, then plan to go digital and provide your group with song lyrics right on their smartphones or tablets. It's much less cumbersome than passing out songbooks or hymnals and way more portable if you plan to travel through the neighborhood.
If all you're looking for are lyrics to the most standard Christmas songs, consider downloading an app called Christmas Carols from the Android Play Store. It's simple and straightforward. It provides users with the lyrics to approximately 25 standard holiday songs ranging from "Silent Night" and "We Three Kings" to "We Wish You A Merry Christmas" and "The Christmas Song." The app does not provide users with background music, nor with actual chestnuts to roast on an open fire – but it can help every singer successfully navigate the words to at least one verse of most songs.
For those of you who are more into the karaoke style of caroling, there's an app called Christmas Carol Karaoke. Instead of simply providing you the lyrics on a single screen, the app plays a bit of the melody in the background and delivers the lyrics to the song one line at a time. This app also provides singers with some of the more modern holiday titles including "Grandma Got Run Over By A Reindeer" and "Rudolph The Red-Nosed Reindeer". (Note to users: Some people have trouble finding the entire list of songs available on the app. Simply touch the "Play" button, then touch the name of the song currently playing. A screen with a list of all the songs will appear and you can toggle between them at your leisure.)
If you find the apps too limiting in terms of the song list, you can always open the Internet browser on your phone or tablet and navigate to the "Lyrics to Popular Christmas Songs" website. This site is just lyrics, no accompaniment. But, the song selection is great.
Remember, when your friends first arrive, have them download your chosen app to their respective smartphones or bookmark the website so they are equipped with the lyrics from the outset. After that, they can refer to their phones for the words – and you can control the music from your device.
The Music
Speaking of the music, many traditional carolers simply travel from house to house singing songs with no back-up band – and generally loudly. Some groups are better at this than others, so sometimes it's best to be prepared with a nicely arranged version of your favorite songs to play in the background as you sing.
But, what if you are at your parents' house and they only have an old cassette tape player and all your songs are on a disc or in the cloud? Or what if you're walking door-to-door? Not a problem. Download your favorite tunes to your smartphone, upload your list of carols to the cloud on Google Play Music, or create a playlist of holiday songs in Spotify.
In any event, you can make your holiday caroling collection completely portable and accessible wherever you go. And, it's easy to share that music with the group directly from your device. Simply invest in a good portable Bluetooth speaker and you can overcome the din of even the most out-of-tune crowd. Here are a few portable speakers that we like:
These speakers range in price from $299.99 to $99.99 at Verizon Wireless stores everywhere and they all have great sound. Just make sure to charge your phone and your speakers in advance, make sure you know how to pair your speaker with your smartphone and how to access your music playlist.
That's all there is to it. You'll be amazed at how much better your group sounds when they know all the words to the songs – and when there is a bit of music in the background to cover the rough notes. So get the wassail warming and pour the egg nog. The holidays are here.
And, yes, Virginia – there is an app for that.
For more Verizon Wireless news, subscribe via RSS feeds in the right rail.