Celebrating 20 years in Verizon India.
Vijay and Kalyani share their memories of when they first joined the V Team.
Full Transparency
Our editorial transparency tool uses blockchain technology to permanently log all changes made to official releases after publication. However, this post is not an official release and therefore not tracked. Visit our learn more for more information.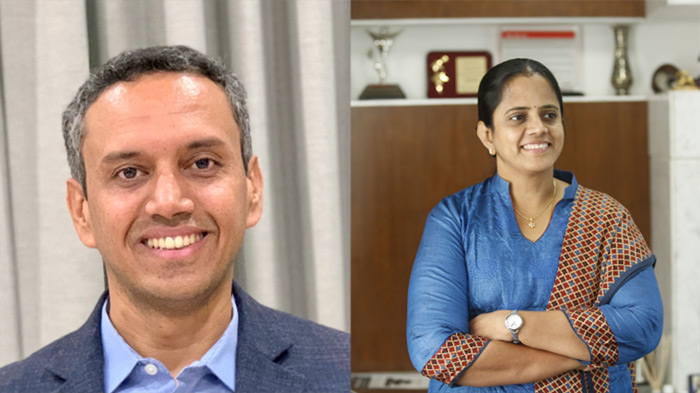 Since Verizon India's inception in 2001, V Teamers Vijayaraman (Vijay) Subramanian and Kalyani Sekar have both been along for the ride, through every transformation and change. Vijay remembers the small office on the 12th floor of TIDEL Park with a cozy cafeteria which used to be the 'Chat Adda'. And for Kalyani, joining as the 148th employee of Verizon India was paramount.
The company embarked upon its journey 20 years ago and since then has come a long way from being an operations center in 2001 to a capability and transformation center for Verizon today. Verizon India has truly come full circle being recently recognized by the Great Place to Work® Institute (India) among the Top 50 - India's Best Workplaces™ for Women 2021 (Large Companies Category).
We caught up with Kalyani Sekar, Verizon VP of Engineering (and former Managing Director of Verizon India) and current VP and Managing Director of Verizon India, Vijayaraman (Vijay) Subramanian on their first 20 at Verizon India.Both of them have been associated with Verizon India since its inception in 2001. 
Starting small and growing: Vijay Subramanian
Verizon Careers: What is the first thing that comes to your mind when you think of your early days with Verizon?
Vijay: I remember the small office on the 12th floor of TIDEL Park, which had a startup-like feel with just about a handful of us on the floor! It had a very small and cozy breakout space for tea/coffee breaks and that used to be our 'Chat Adda (area)'. Our headcount started to grow steadily in 2004-2005 and that's when we acquired more floor space and expanded teams.
I'm still in touch with most of the people I started with at Verizon India and we share a very unique bond of evolving friendships over these past so many years. 
Verizon Careers: What has kept you excited?
Vijay: I started as a Program Analyst in 2001 with Verizon. I have grown with the organization and the journey has been amazing with a multitude of learning and ample growth opportunities. Verizon India has undergone a huge transformation over the last many years, and that's what has kept me extremely engaged and excited about the future.
Verizon Careers: What are your most memorable milestone achievements?
Vijay: My first achievement was to receive an award from Verizon SVP and CIO Shankar Arumugavelu (he was a Director then), for a program called 'Genuity Transition'.
It was a transformative experience with the launch of such a service for the first time ever in a large market like the U.S. I had the opportunity to travel to the US along with other colleagues, to deploy our work. 
Other milestones include receiving a Verizon Credo award for our work on a tech project, becoming a director, then taking a rotation into various roles before becoming the Managing Director for Verizon India. It has been a rollercoaster ride, but totally worth it! 
Verizon Careers: What are you proud of as a V Teamer?
Vijay: We have integrity at our core, and we prioritize supporting customers, employees and communities around us; that's one thing that I'm extremely proud of. The kind of cutting edge networks and solutions we build gives us an opportunity to play a role in changing the world, be it launching FiOS (it is now everywhere but when we launched it, it was nascent technology across the world), 4G and now 5G is where FiOS was when we launched it. 
I'm glad to have had the opportunity to be a part of such leading-edge concepts and launches and various teams from Verizon India have played central roles in these programs.
Verizon Careers: What are you looking forward to?
Vijay: We have established Verizon India as a strategic center for Verizon. Our goal now is to help various business teams in Verizon leverage India as their strategic location to do high-end tech or operational work, to drive operational excellence, low-hurdle rate innovation, and to be an employer of choice for top-notch tech talent in India. As we do this we continue to give back to the communities around us, and I am very proud of what we have been able to do over the years, on the CSR front, serving our communities.
An inspirational career journey: Kalyani Sekar
Verizon Careers: What is the first thing that comes to your mind when you think of your early days with Verizon?
Kalyani: I have numerous memories of team-building events and outings with the teams, of multiple engagement events including participating in Gusto, Verizon India's annual event, leadership meets/conferences and so much more!
Working along with subject matter experts, leaders, mentors and teams with diversified talent and skills has been an absolute privilege. I have met some of the best minds and wonderful people right here. Some have moved on to create their journeys into different spheres, but one thing that will always remain with all of us is 'Verizon', and the numerous opportunities it has provided for us to diversify and move forward.
Verizon Careers: How would you describe your 20-year career journey that started in Verizon India?
Kalyani: My employee number is 148, so I'm the 148th employee of Verizon in India! My journey here has been fascinating, with experiences that were thoroughly enriching, challenging, and adventurous. Throughout, I have had the support and trust of my teams and peers, and the faith and guidance of my leaders and mentors. 
I have partnered in Verizon India's journey of evolution from an operations center to a strategic center of innovation and a technology partner for Verizon by building SMEs, attracting the right talent, and investing in our people. I'm very excited as Verizon India completes 20 successful years, it is a proud feeling!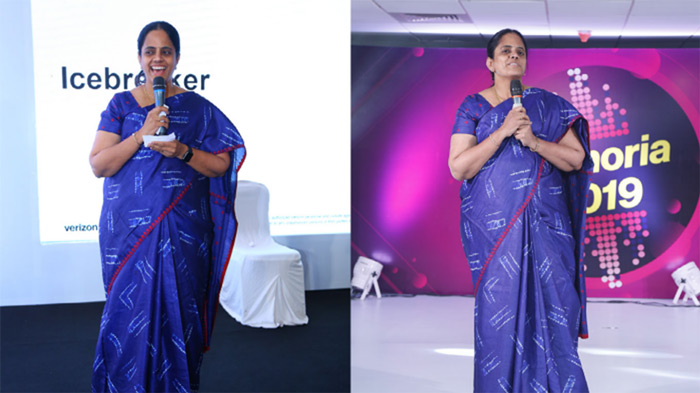 Verizon Careers: What are you proud of as a V Teamer?
Kalyani: I am proud of our commitment to the communities around us. As a responsible business, we don't just stop with delivering solutions that our employees, customers, and shareholders love. Instead, we go above and beyond to serve the communities at large. This is something that inspires me and also makes me proud.
Verizon Careers: What has kept you excited?
Kalyani: It has always been 'our people (at Verizon)' who have kept me super excited! Our people are the building blocks of making this organization a great place to work. They come from diverse backgrounds with a variety of skill sets and innovative ideas. Everybody that I have had the opportunity to work with, has had an immense drive to do something different and do better each day. 
I'm also humbled by the trust that the organization and our people have bestowed on me since the very beginning of my journey. It has given me opportunities to develop teams and build functions from the ground up, in line with the larger organization's strategy and goals. From being one of the first employees to leading this team, It has been a memorable experience.
Verizon Careers: What is your vision for Verizon India?
Kalyani: I hope to see Verizon India evolve to the next level, from being the tech power of Verizon to becoming the talent powerhouse of Verizon!
Learn more about Verizon's APAC locations.
Related Articles