Celebrating Earth Day at Verizon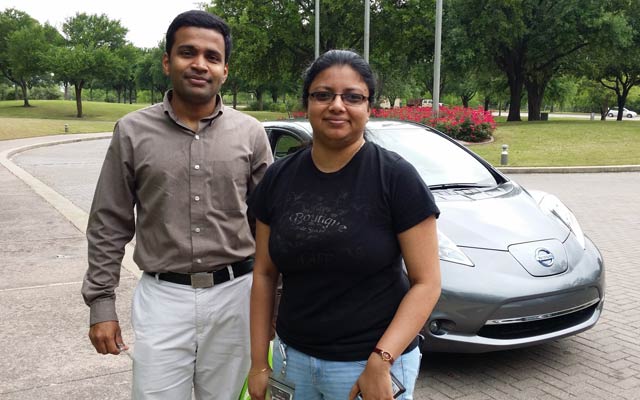 Today marks the official 45th birthday of Earth Day. To celebrate the occasion, Verizon Green Team members across the U.S. and in Europe are hosting Earth Day Green Expo events for their co-workers. The locations include: Lake Mary, Florida; Hanover, Maryland; Basking Ridge, New Jersey; Tulsa, Oklahoma; Elgin, South Carolina; Irving, Texas; and Ashburn, Virginia; and in Europe in Reading, England. 
Today I'm blogging to you from Verizon's Hidden Ridge campus in Irving, Texas, where we're hosting a massive Earth Day Green Expo event to engage, inform and educate thousands of our employees. Verizon has invited some special guests from its global supply chain to join us and share information about their companies' sustainability solutions.
For example, we invited ChargePoint to help educate us about electric-vehicle charging stations, like the one Verizon has installed at Hidden Ridge.


Each ChargePoint EV charging station has two ports for hosting two electric vehicles.
Each charging station has two ports, which can charge two electric vehicles simultaneously. Using Verizon wireless technology, the ChargePoint stations send real-time charging-status updates directly to the corresponding driver's mobile phone. 
The charging station at the Hidden Ridge campus currently serves our employees who drive electric vehicles. We anticipate more electric vehicles connecting in the future, especially with Nissan's participation at today's Green Expo. Thanks to Nissan, Verizon employees were able to test drive a Nissan Leaf and the Infiniti Q70 hybrid. Nissan will also randomly select a winner to keep a Nissan Leaf for a weekend.


2015 Nissan Leaf
Green Technology to Give Green Awards
Verizon is recognizing the exceptional sustainability efforts of our suppliers ChargePoint and Staples, and our partner, the NFL, with Verizon Sustainability Awards. For the first time, the awards are being presented by our chief sustainability officer, James Gowen, via telepresence videoconference.  Gowen is out of the country but still wanted to congratulate the winners and is doing so without incurring the fuel consumption and carbon emissions that a trip to Texas would have incurred.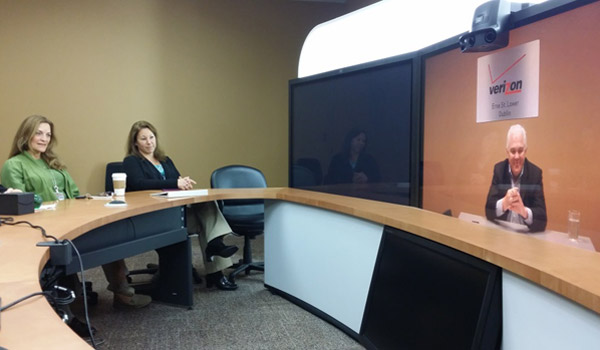 James Gowen, Verizon chief sustainability officer, addresses Verizon employees and award winners in Irvine, Texas, via telepresence from Dublin, Ireland.
Interested in Sustainability?
More than 17,000 employees, nearly 10 percent of our global workforce, are volunteer-members of the Verizon Green Team. 
Recently, nearly 7,000 Verizon employees celebrated Earth Hour – turning off lights at their homes across nearly 30 countries, while Verizon darkened nearly 500 building locations around the world.
Verizon's ongoing Spotlight on Supplier Sustainability blog series highlights other Verizon suppliers that have made outstanding commitments to environmental sustainability. The series features companies like GE, Cisco, PwC, Jones Lang LaSalle, and Microsoft. 
Year-round, employee-members of the Verizon Green Team volunteer in community environmental events.  To celebrate Earth Day, employees pledged to participate in nearly 30 community projects.