Cincy Chic Shares Tech Insights for Fashion in Flight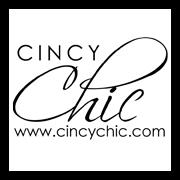 This Thursday, Verizon Wireless will help fashion and technology take off at Cincy Chic's Fashion in Flight event at the Cincinnati/Northern Kentucky International Airport.
We will have our latest smartphones and tablets on display and will be giving away three fashion-forward smartphone cases.
We asked the event planners about the convergence of fashion and technology. Here's what Amy Scalia (@amyscalia), publisher and editor-in-chief of Cincy Chic, had to say:
In your experience, how is technology affecting fashion?
Especially recently, the two worlds of technology and fashion are merging into one. In fact, the biggest trend at CES this year was Wearable Technology. Manufacturers of technology are working to make their products more sleek and fashionable, while fashion designers are working to make their products more functional. They're now meeting in the middle and coming up with some brilliant creations.
Is wearing tech accessories – like the UP by Jawbone – a fashion "do"?
I think we are finally at a point where the technology is small and stylish enough to be incorporated into your everyday life and wardrobe, which is the purpose of lifestyle tracking products like a Jawbone and new "Up24" wristband.
What three things should women consider when traveling?
1) Dress in and pack to wear layers.
2) One pair of shoes that goes with all outfits if you're trying to travel light.
3) Invest in a mobile battery pack to recharge your phone! These days your phone is your phone, GPS, radio, camera and gaming station. You want to make sure it's powered up at all times.
Are there any apps you recommend to help women with their fashion choices?
I like polyvore for learning new trends and seeing how people style various pieces, and then it clicks to the websites of those pieces if I want to buy or learn more. I also never buy anything online without first checking my retailmenot app to see if there's an online coupon code for that site. I usually save at least 20% with my codes, and there's almost always a code!
For more Verizon Wireless news, subscribe via RSS feeds in the right rail.