HP, Salesforce Join Growing List of Cloud Services Connected to Verizon's Secure Cloud Interconnect
HP, Salesforce Join Growing List of Cloud Services Connected to Verizon's Secure Cloud Interconnect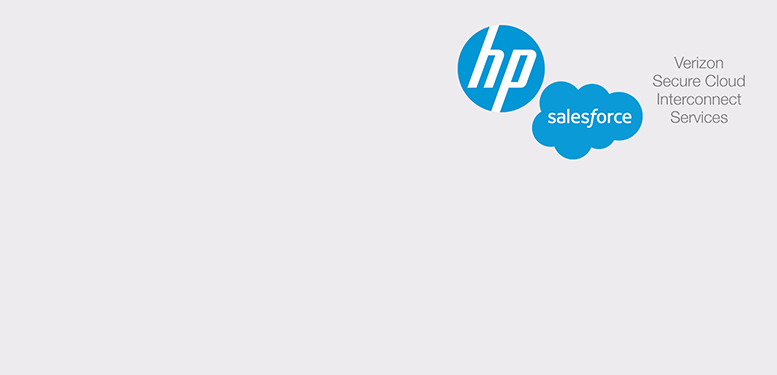 Verizon Enterprise Solutions' Secure Cloud Interconnect (SCI) service is now available with HP Helion Managed Cloud Service and the Salesforce Customer Success Platform.
With HP and Salesforce a part of the SCI ecosystem, Verizon now connects securely to six leading cloud service providers (Amazon, Google, HP, Microsoft, Salesforce, and Verizon), enabling enterprises to rapidly scale and use multiple cloud services via a pay-as-you-go model.
Enterprises using cloud services from HP or Salesforce will be able to tap into Verizon's world-class networking solution that features dynamic bandwidth allocation, strong security (encryption), application performance throughput and quality of service options. Rapid, on-demand provisioning reduces deployment time and maintenance requirements for Verizon SCI customers.
SCI customers also will be able to securely access their mission-critical applications in the cloud via either their mobile devices (running on Verizon's U.S. 4G LTE network) or from their office laptops (connected to Verizon's global Private IP network). This distinction enables enterprises to offer users a truly integrated experience no matter what device they use to access information, content and applications.
"Verizon SCI now connects to more cloud services, offering enterprises a premier choice when choosing their cloud interconnect partner," said Shawn Hakl, enterprise networking platforms and managed products for Verizon. "HP and Salesforce customers will find that SCI delivers an unmatched combination of security, resiliency, application performance, simplicity and efficiency while enabling a wide range of applications and use cases, making it a great fit for enterprises with discriminating requirements."
According to Verizon's recently released State of the Market: Enterprise Cloud 2014 report, 65 percent of enterprises are now using cloud technology and are increasingly moving more complex and mission-critical workloads to this environment.
The report also found that enterprises will continue to use a mixture of providers, partly to benefit from the "best-of-breed" values that different providers offer, and partly to avoid "putting all their eggs in one basket." Cloud providers must recognize that for most enterprises they're just one part of an interconnected and federated ecosystem of providers.
SCI with HP Helion Managed Cloud Service
Verizon's SCI service will offer pre-integrated wireless and IP data networking capabilities to the HP Helion Managed Cloud Service to help enterprise customers rapidly deploy a highly secure, reliable and scalable connection to HP cloud services.
The joint Verizon-HP solution provides a multiple redundant offering, giving enterprise customers the confidence they need to build, manage and consume cloud services. With SCI, HP customers will be able to tap into flexible speed on demand and the ability to easily scale up and down, giving customers the control and responsiveness required to meet changing requirements.
"To make the most of the cloud's economics, organizations must overcome the security challenges of today's complex IT environments," said David Dowse, vice president and general manager, Strategic Partners, HP. "By integrating the HP Helion Managed Cloud Service with Verizon Secure Cloud Interconnect, we are making it easier for customers to take advantage the cloud with confidence."
SCI for Salesforce Customer Success Platform
Salesforce customers will be able to use Verizon's SCI service to connect to the Salesforce Customer Success Platform, which brings together cloud apps for sales, service, marketing, community and now analytics, all on the Salesforce Platform. This provides customers the reliability, speed and performance of Verizon's SCI service when using Salesforce.
"Companies are transforming the way they connect with customers, partners and employees to thrive in today's connected world," said Denzil Samuels, senior vice president, alliances, Salesforce. "Verizon is accelerating this shift for its customers with the addition of Salesforce to the SCI service."
Verizon Private IP Provides Secure, High-Performance Environment for Cloud Computing
SCI is built on Verizon's world-class Private IP network that offers any-to-any connectivity of IP, while providing the security and reliability associated with private wide area networking solutions. Using Verizon's Mobile Private Networking feature, SCI is further extended to users of its 4G LTE service.
Available in more than 170 markets around the globe, Private IP delivers scalability, varying classes of service, expansive reach and exceptional service, including stringent service level agreements for latency and packet-loss.
In addition, SCI clients can add Verizon Managed Security Services including firewall, anti-virus, anti-spam, image and content control.
Visit Verizon's networking products site to learn more about Secure Cloud Interconnect services.
Salesforce and others are trademarks of salesforce.com, inc.