Verizon and Samsung Join Forces to Put Mobile Technology in Cornerstone Schools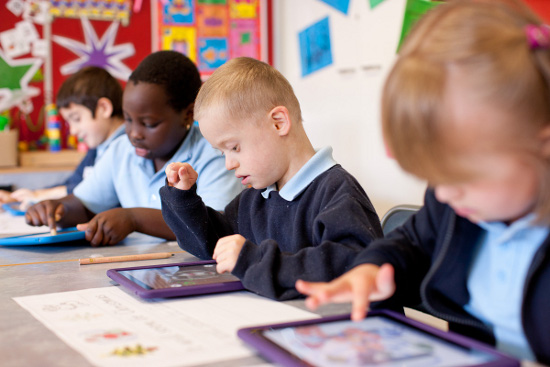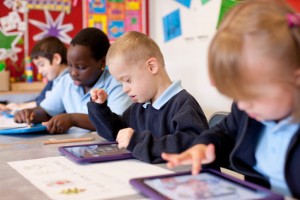 Our children are growing up not knowing life without wireless technology. Kids as young as three and four can quickly and easily figure out how to download apps, change settings and leverage the many capabilities smartphones and tablets provide.
And as entertaining as these wonderful mobile devices can be, innovative apps are also helping our children learn to read, perfect their math facts, understand our solar system and much more.
Many schools are leveraging students' inherent knack for technology by integrating mobile learning in the classroom.
Recently, Verizon and Samsung teamed up to bring mobile learning to Cornerstone Schools' Washington-Parks Academy in Redford, Michigan. Samsung donated 60 4G LTE Galaxy Tabs (a combination of their Tab 2 7" and 7.7" models), valued at about $24,000, to be used for a blended-learning lab that integrates math and science into the daily learning of students. Verizon Foundation gave two separate grants totaling $75,000 that benefitted Cornerstone's Washington-Parks Academy for technology training and the various costs associated with implementing technology in the classroom.
The initiative is benefitting 400 Washington-Parks Academy students ranging from 3rd through 8th grade. Recently during a visit to the school, I had the pleasure of watching Verizon's and Samsung's collaboration at work. Third-grade math students were taking pictures of right angles with the tablets as part of a geometry lesson. Eighth-grade science students were using the Google Sky app on the tablets to identify stars, planets, galaxies and constellations.
"This generous partnership by Verizon and Samsung is having a tremendous impact on our students," said Scott Cairo, principal of Washington-Parks Academy. "Children learn best by doing and working in groups. The nature of this technology allows them to do just that and is helping our students develop valuable skills and amplify their passion for technology, which will benefit them throughout their lives."
By helping schools leverage the latest advances in mobile technology, teachers will be able to provide their students with an advanced, state-of-the-art learning experience. This technology will also allow instructors to identify and establish rigorous academic coursework, relevant learning opportunities and meaningful relationships with their students.
Most schools around the country do not receive enough funding from the government to support the ever-changing educational needs of their student body. Our schools need moral and financial support from businesses and community members to help guide the generation of tomorrow to become affluent, confident and forward-thinking members of society. The more community support we provide, the more successful our students and schools will be.
For more Verizon Wireless news, subscribe via RSS feeds in the right rail.