Earth Day and Technology: Easy Ways to Make a Difference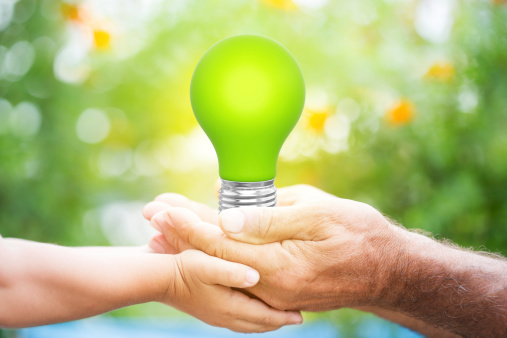 Updated April 2015.
Earth Day is a day meant to inspire awareness and appreciation for the Earth's natural environment. More than that, this day sheds light on the global initiatives happening year-round so you can take part and make a dramatic, positive change on our environment.
Last year, Earth Day Network launched the Green Cities campaign to help cities around the world become more sustainable and energy conscientious. This massive global movement, from towns to cities big and small, will demand huge investments in energy, waste, water, food and transportation to reverse damages done by massive global consumption of fossil fuels.
Now, more than ever, the investments we make will prepare our society to face the dramatic changes in the environment and climate change that will take place over the next 25 years. Investments like that start with policymakers and innovators, but change also starts at home.
Earth Day and technology go hand in hand. Making a difference can start with you...with a little help from smart technology.
Within your very own home, you can take advantage of an array of energy-saving tricks that won't just lighten your energy bill, but will also lighten the impact you have on the environment. The Nest Home Thermostat is a smart accessory that learns your schedule, programs itself to adjust temperatures when you're away from home and can lower your heating and cooling bills up to 20%. It's easy to set up, and a monthly energy report is sent via email to help show energy use. Sounds smart, doesn't it?
One of the keys to keeping energy use and costs at a minimum is to make sure electronics are powered off when not in use. The WeMo Switch allows you to control any electrical switch at home through your device, or set a customizable schedule to turn electronics on and off when you're away from home.
You can also "green" your current devices by making them more environmentally friendly with the Panasonic Solar Charger, which uses sunlight to charge your smartphone or tablet and can also double as a light source.
Sometimes one of the easiest ways to get involved in the practice of environmental health is by simply knowing how to recycle. The iRecycle app can tell you how to recycle the different materials found in your home and even knows when and where you can take the items to be recycled. To find a nearby recycling center, Find Recycling can give you your nearest location and provide directions.
‪Another way you can make an impact is to donate your no-longer-used-devices to the Verizon HopeLine program. Not only are all devices recycled in an environmentally sound way, the proceeds collected through the HopeLine program provide much-needed financial support for domestic violence prevention agencies and shelters across the country. In fact, we've donated 151,000 phones to victims and survivors since 2001.
We hope you take advantage of technology to help you preserve our environment - not just on Earth Day, but every day.
Do you use any other technology to help you recycle and/or reduce your energy consumption at home?
For more Verizon Wireless news, subscribe via RSS feeds in the right rail.