At the end, she rang a bell.
At the end, she rang a bell.
This video of a V Teamers daughter ringing a bell will put a smile on your face.
On August 27th, Arden Shore turned five-years old.
That same week she packed up her backpack for her first day of kindergarten.
One month later, Arden climbed and ran through an obstacle course in the hallway of the Northern Nevada Children's Cancer Foundation. Her father, trying his best to keep up with her, streamed the happy moment on Facebook Live to friends and family. As she finished the last obstacle, she reached up and rang the bell — signifying she just received her final chemotherapy treatment.
Holding back the tears.
Arden's dad is Justin Shore, and Indirect Account Manager at Verizon. For the past two and a half years Justin, Arden, and their family have been traveling between Nevada and a cancer treatment facility in Oakland while Arden battled her childhood leukemia.
"It all started when we noticed Arden was having trouble breathing," Justin said. "We took her to urgent care, and after a blood test they told us the bad news."
Justin remembered how he tried to keep himself from crying when the doctors informed them about Arden's leukemia.
"I didn't want her to be scared, but it was hard because I was so scared."
That night they flew to Oakland where Arden could receive more advanced treatment. She spent ten straight days in the hospital, and began chemotherapy.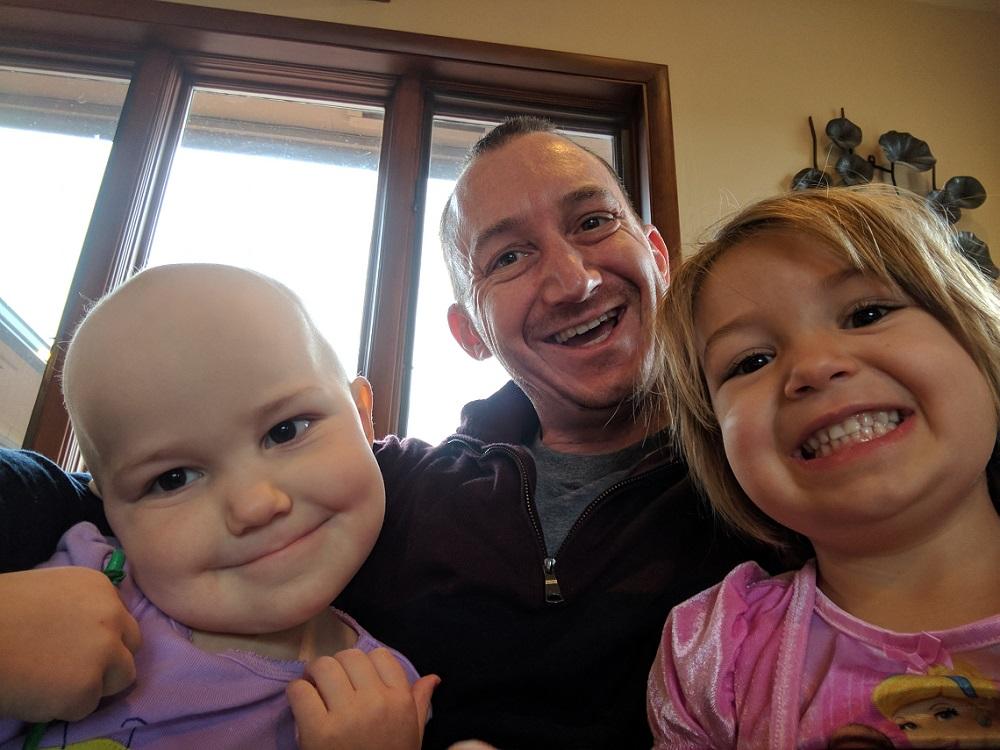 They had my back the whole time.
When Justin told his coworkers what was going on, he received an outpouring of love and support.
"My District Manager, Debbie Sachs, was so kind and accommodating throughout this two and a half year journey. Our Director, Chris Lavigne, reached out to me as well. They told me anything I needed, they had my back. That meant so much to me."
And despite battling leukemia, and dealing with the side effects of chemotherapy, nothing stopped Arden from having fun.
"Some days she would come home from treatment, take a nap, eat some mac and cheese — her favorite snack, and then she would still have the energy to go out and practice gymnastics," Justin shared. "She's a real trooper, and she's always so positive."
Ringing the bell.
When the day for the bell-ringing ceremony came, Justin's friends and extended family around the country wanted to experience the special moment.
"Everyone was asking me to do a livestream. Because I'm on Verizon, I wasn't worried about the livestream dropping," Justin said. "I only had to worry about not tripping as I tried to follow her with my phone."
With Arden's leukemia in remission, Justin and his family are looking forward to their lives getting back to normal.
"It's such a sense of relief," he said. "It's a large weight off our shoulders. We could not have done it without the support from my team at work, and without Verizon's incredible employee benefits package."