Enjoy Your Day at the Park with these Apps for Baseball Fans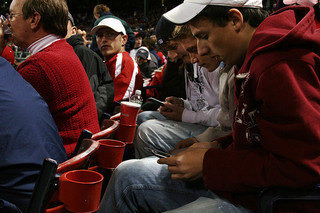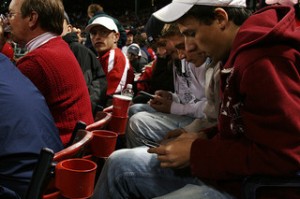 For fans, nothing beats the experience of seeing a baseball game in-person. After all, "Take Me Out to the Ballgame. Take Me Out to the Crowd" serves as the first line of one of the most famous sing-along songs of all-time. We've identified a few ways that Verizon Wireless' devices, accessories and apps can make taking in a baseball game as smooth as a home run trot for fans across the Midwest, from Kansas City to Detroit, Chicago to Cleveland.
For many teams and baseball towns, a baseball game is more than just a game – it's often a spectacle. Thousands of people flock to the stadium grounds to be a part of the festivities; whether or not they're actually attending the game. With that, traffic can be a nightmare. But with the free Beat The Traffic app (available on Apple, Android and Blackberry devices), you'll be able to check the latest road traffic conditions in your area and find the best route to avoid traffic jams.
Alright, you got your car parked, fought the crowd to get into the ballpark and grabbed a hotdog along the way. Now you're at your seat and ready for the first pitch. But what if you're seated next to a blabbermouth who spends the entire first inning talking about anything but baseball? Pop in your earbuds and listen to your team's radio broadcast to shed some light on the game with the MLB.com At Bat app ($19.99 for entire 2013 season; free for MLB.TV subscribers; available on Apple and Android devices). Users can also customize the app to feature their favorite team, watch condensed games and in-progress video highlights from other games around baseball .
Trying to capture all of the sights of the ballpark is hard to do with just mental images. You'll want to see these images for years to come, or share them with your friends. Bring along the Samsung GALAXY Camera ($549.99, operates on Android 4.1 Jelly Bean) and you'll be able to take the perfect picture with its many shoot features. You can also edit on the fly and share your shots instantly - no Wi-Fi or cables needed! And the camera's Auto Cloud Back-up instantly saves your photos to the cloud as soon as they're snapped.
Assuming you didn't eat too many bags of peanuts or hot dogs at the ballpark, you may be looking for a meal once the game comes to a close. Or maybe you just need an adult beverage. Either way, there are many apps that help you identify eateries or pubs near your current location, but here are a few of my favorites:
UrbanSpoon (FREE, available on Apple, Android and Windows devices)
Find Craft Beer ($.99, available on Apple and Android devices)
SavoryApp: allows you to see the special menu items and discounts and nearby restaurants (FREE, available on Apple and Android devices)
While there's no guarantee your favorite team will win, hopefully these apps for baseball fans will help improve the game experience and maximize your fun. Play Ball!
For more Verizon Wireless news, subscribe via RSS feeds in the right rail.