How to Fully Enjoy the Wisconsin State Fair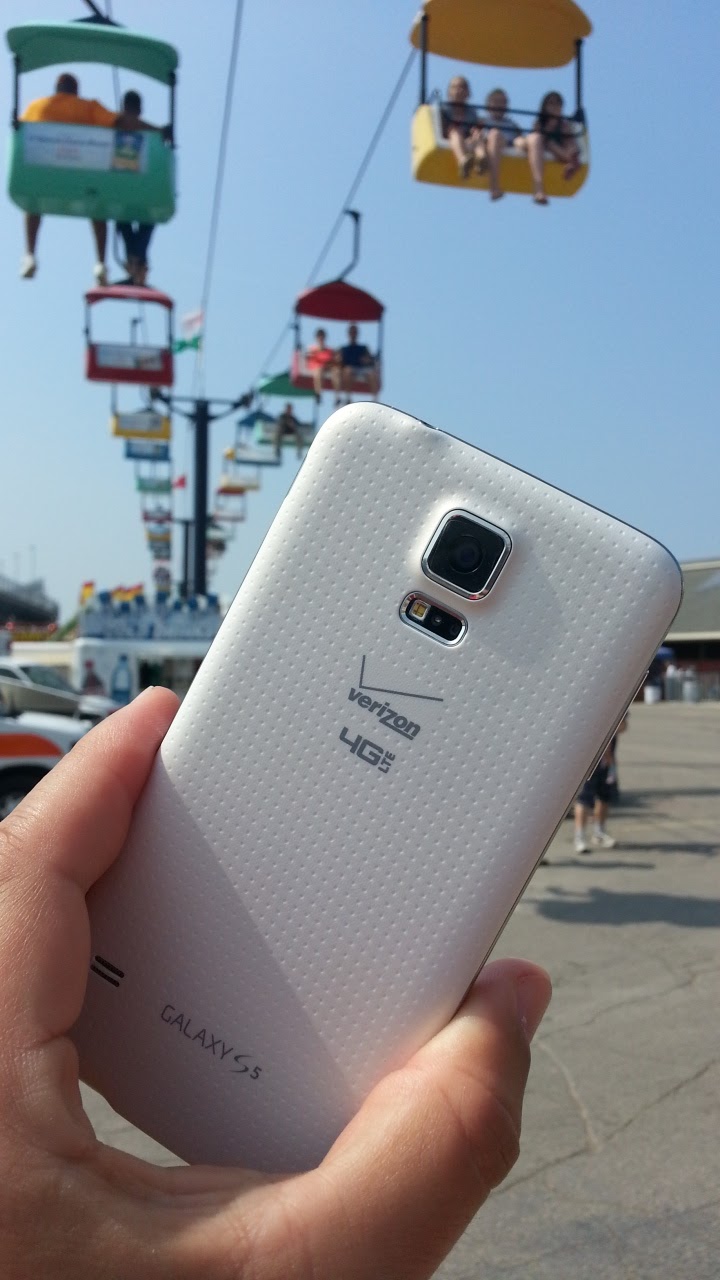 This is a guest post from Mike Collins. Mike is a Milwaukeean...through and through. You can find him on Twitter @MRC58 and keep up with him as he checks out all the treasures in the city they call the City of Festivals. From Bastille Days to Summerfest, Wisconsin State Fair and everything in between, chances are pretty good you'll find him there. And chances are pretty good he'll take a minute to tell you about all the fun things to see and do in this vibrant city on the lake.
Milwaukee is chock-full of summer festivals and fairs, but there's none bigger and more fun than the Wisconsin State Fair. It's the only event that can be enjoyed from 8 a.m. to 11 p.m., and at least once a year, I make an honest effort to enjoy it for at least 15 hours straight.
This year, I was fortunate enough to be asked to attend the fair equipped with a Samsung Galaxy S5 on Verizon's 4G LTE network. My job was a tough one: have a great day enjoying the fair and extensively share my fun with my social network (currently limited to Facebook, Google+, Instagram and Twitter … oh, and LinkedIn, but I didn't post any there – I have a job to keep!).
The phone performed extraordinarily well. After a full day of usage and about 50 uploads to my various social networks, the S5 still had more than 50 percent battery life. My S3 (on a different network and used sparingly throughout the day) was dead as a doornail by 9 p.m.
Cool phone and a great network. Looks like I'm in the market for an upgrade!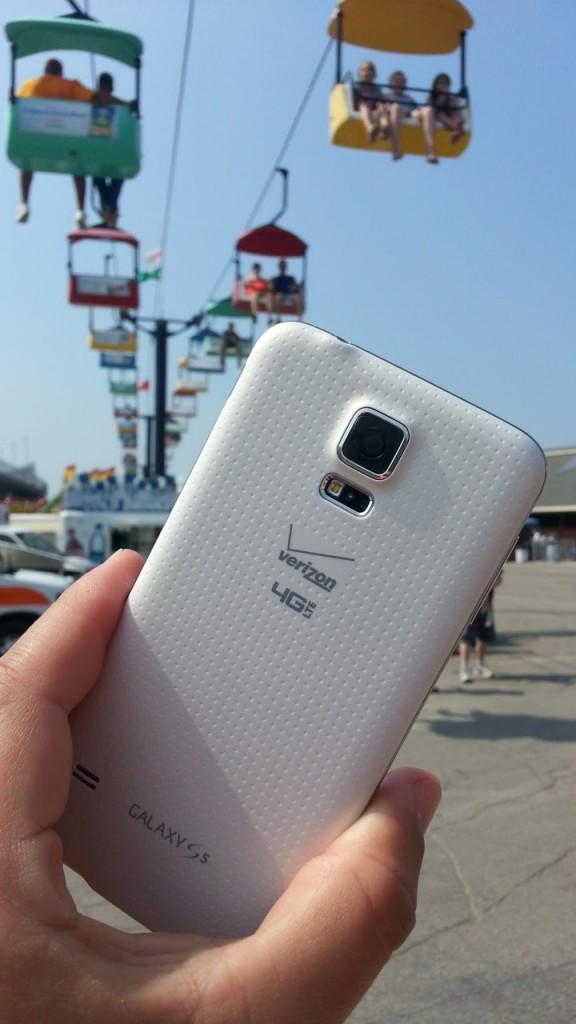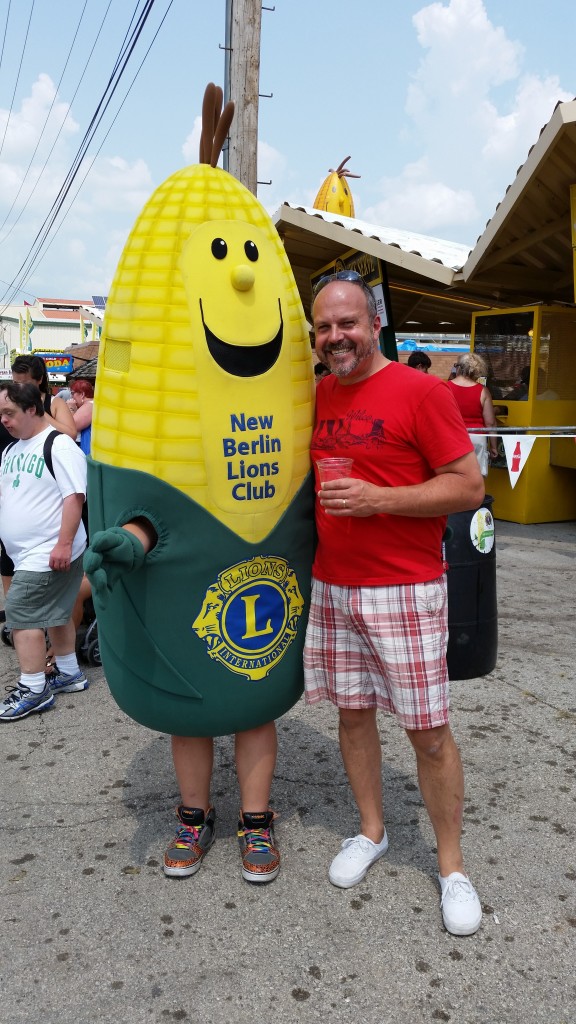 Anyway, enough with the technical stuff, let's get on to the fair ...
To make the most of a day at the Fair, start at the north end, but skip the midway. Meander slowly through the barns and exhibits while taking in the sheep, horses, goats, pigs, cows, rabbits, chickens and ducks. This is a cool area to meet some of Wisconsin's next generation – I always marvel at these hard-working kids from all over the state who make the annual pilgrimage to Milwaukee to show off their best efforts.
One place where you can easily lose an hour is the Farm & Family Building. Along with a group of other adults and kids, we watched a chick hatch from her first peck at the shell until she walked up to the glass wall of the bulb-heated incubator and said "Hello!" to the world. This was a little bit like watching grass grow, but it was well worth the wait when the exhausted little bird finally broke completely out of her shell to cheers of "Happy Birthday!" for all who waited for her arrival.
If you plan your route just right, by the time you make it out of the barns it'll be lunchtime and time for a beer (well, maybe it was time for a beer a few hours earlier, but we all have our own choices to make). There are always the weird, gross and exotic foods to try (bacon-wrapped deep-fried Oreo on a stick? No thanks.). I've tried them a bunch, but for my buck, I stick to the classics: an Italian sausage sandwich slathered with peppers at the Wisconsin Products Pavilion, jerk chicken sandwich at Tropics, or Mexican corn at Margarita Express.
By now, you've made your way to the heart of the Fair – my favorite part. This is where you can really lose yourself. Find a place in the warm sun, refresh yourself with Milwaukee's favorite adult beverage and sing along to some cover band absolutely nailing Journey's "Don't Stop Believin'." (As far as you care, anyway.) Hours can slip away quickly here as you engage in all the great people watching the Fair has to offer.
Meander properly and you'll soon find yourself at the State Fair's favorite watering hole: The Micro. The Micro is sponsored by one of Milwaukee's longest-running establishments dedicated to the art of craft brewing: Benno's. Enjoy one or two here, but heed warning: these are stronger ales than you'll get elsewhere at the Fair! (Trust me.) And if you're lucky enough to get the last beer out of a barrel, you'll be awarded with a KEG KILLER t-shirt!
After leaving The Micro, you'll be feeling fine. Where to go from here is a wildcard. You could head further south to the Exposition Center where hucksters are shilling mops, metal polishers and knives that can cut a coffee table in half. I like this area, but it can be crowded and I have to be in the right frame of mind to enjoy it.
For us, however, the place to go at 6 p.m. is back north to Saz's where the incomparably fun Bobby Friss Band plays every night. Oh man, I've rocked away the hours here. Mr. Friss is the guy that nails every song he covers. You'll be holding your beer and singing "What a Whole Lotta Love" like you're in the front row of a Led Zeppelin reunion concert (like that'll ever happen).
Too. Much. Fun.
By the time Friss rocks you, you'll be quite exhausted and it'll be about time to call it a night. Use your Uber or Lyft app to call for a ride and make your way out of the park. Along the way, don't forget to have a deep and meaningful conversation with a goat. They're pretty good listeners and there are a few currently living in Shiocton that know more about me than my own family. (Hey, it's been a long day!)
The 2014 Wisconsin State Fair - enjoy it!
Check out all of Mike's State Fair photos, taken with the Samsung Galaxy S5, here.
Disclosure: We loaned Mike a Galaxy S5 to use at the State Fair.
For more Verizon Wireless news, subscribe via RSS feeds in the right rail.