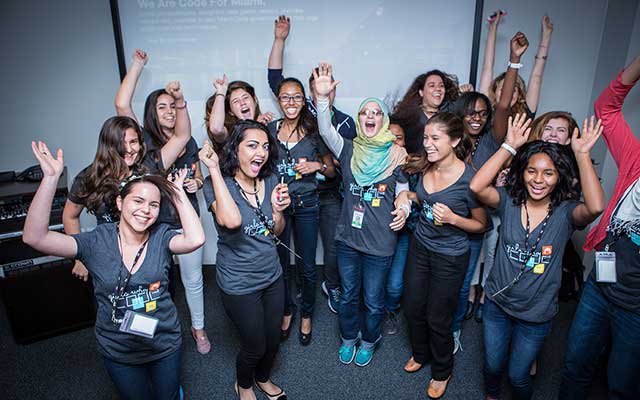 In his LinkedIn post, Verizon CEO Lowell McAdam calls attention to the gender inequality in the disciplines of science, technology, engineering and math, noting that women make up half of the U.S. workforce, but hold just 25 percent of the jobs in technical or computing fields.
As part of Verizon's commitment to address this issue, McAdam says, the company supported a summer immersion program operated by Girls Who Code, a national nonprofit organization working to close the gender gap in STEM by inspiring young women in underserved communities to pursue careers in technological fields. Forty South Florida high school girls successfully completed the seven-week program, which paired instruction in robotics, Web design and mobile development with career-focused mentorships from the industry's top female entrepreneurs and engineers.
In addition to Verizon's commitment, McAdam is personally committed to the issue. "Certainly, as the CEO of one of the largest technology companies in the world, I take the responsibility to address the problem of gender inequality in STEM very seriously," he writes.
McAdam notes that he has been an engineer "my whole life" and that "as a kid growing up in rural upstate New York, I was always interested in solving problems and understanding how things worked." When he listened to some of the 40 summer immersion program graduates, he felt they shared his passion for "taking an idea and turning it into something tangible."
"By getting and staying involved as these talented young people move from classroom to career, we can help 'girls who code' become 'women who innovate' – transforming not only their futures but also our own," he says.
Recent Articles