GoPro Captures Dog's Holiday Cheer at Reindog Parade in Cincinnati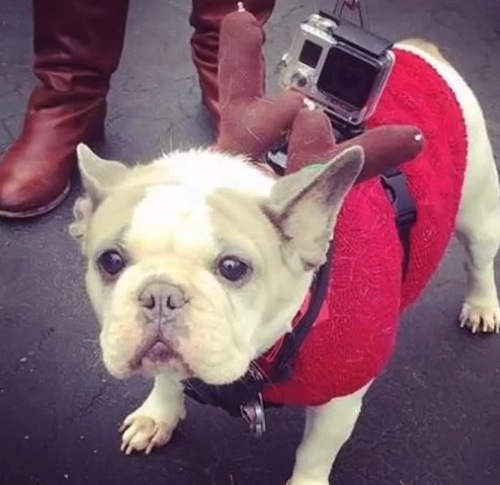 This is a guest post from Julie Niesen Gosdin, a well-known food blogger in Cincinnati and the proud mom of Sofie, a lovable French Bulldog. Connect with her on Twitter @Winemedineme. Disclosure: We loaned the GoPro to Julie for this event.
This was my second go-around using the GoPro with my French bulldog, Sofie. After having such a great time at Bark in the Park earlier this year, we were definitely ready to try the GoPro at the 25th Annual Mt. Adams Reindog Parade! Sofie was the star of the show in her GoPro. As you can see in the video, everyone called her the "GoPro Puppy" and thought it was ADORABLE that she was wearing it. She got a great, dog's eye view of the parade, the streets of Mt. Adams, other dogs and all the people waiting on St. Gregory to see all the dogs in hilarious costumes! I'd never done the Reindog Parade before and I was so surprised at the number of people.The SPCA Cincinnati, which is an animal shelter and humane society, organizes the annual parade and asks for a small donation to participate. I'm sure that plenty of pound puppies benefitted greatly from all of the dogs walking in the parade with their owners.
Even better? There were tons of people watching the parade from their houses – and even having parties! You might think that a dog and a GoPro is a summer-only thing, but I'm thinking we may need to pull it out for the first significant snowfall of the year. What's better than a dog romping around in the snow? It could also be cute to have your dog wearing it while your kids open presents on Christmas Day, or her view during your New Year's Eve party, too! If a GoPro is on your wish list, don't forget to include all members of the family in the fun. (Well, maybe not the cats...)