HopeLine Helps Domestic Violence Survivors in Illinois With $100,000 Donation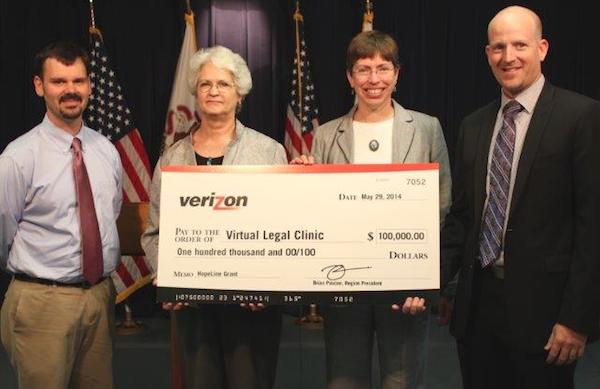 Recently, HopeLine from Verizon made its largest single donation in Illinois to date, donating $100,000 to the Illinois Coalition Against Domestic Violence's Virtual Legal Clinic. The Virtual Legal Clinic uses the Internet and webcam technology to provide domestic violence survivors the opportunity to consult with attorneys on a pro-bono basis. The check presentation was made with Illinois Lt. Governor Sheila Simon.
"Through the generosity of Verizon, individuals in need can get access to critical legal advice," said Lt. Governor Simon. "Too many survivors, especially those in rural communities, have no access to a lawyer. The Virtual Legal Clinic aims to provide survivors not only with free legal consultations, but also to better prepare them to proceed in court without an attorney when necessary."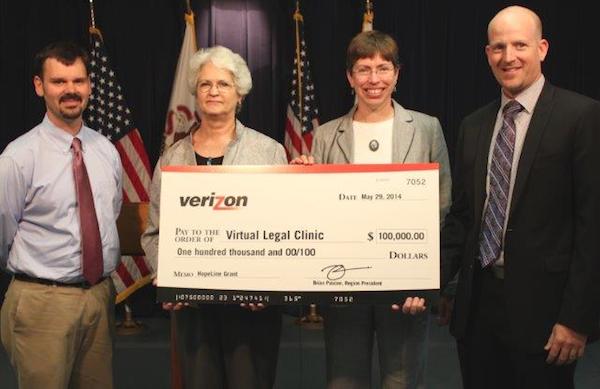 At a presentation held in Chicago, Kevin Nowlan from the Center for Prevention of Abuse in Peoria, IL, shared some of the success that has already been had by the Virtual Legal Clinic. The Center has served as the program's pilot organization for the last four years. More than 100 women have been helped in the areas of child support, divorce, finances, orders of protection and more.
Vickie Smith, executive director of the Illinois Coalition Against Domestic Violence, believes support from Verizon is absolutely critical to their ability to continue to serve their communities. "While we work together to end domestic violence through education and community programs, we also need to provide a voice to survivors so they can achieve independence and self-sufficiency," she added.
As of May 2014, the Virtual Legal Clinic has provided legal consultations in 16 counties, reaching more than 6,300 survivors of domestic violence. By 2015, the organization projects growth into 40 counties, serving more than 15,000 survivors of domestic violence.
For more Verizon Wireless news, subscribe via RSS feeds in the right rail.