HopeLine From Verizon Supports Annual CHOICES Peacemaker Award Luncheon in Columbus
HopeLine From Verizon Supports Annual CHOICES Peacemaker Award Luncheon in Columbus
Did you know?* In the United States, 30% of Americans say they know a woman who has been physically abused by her husband or boyfriend in the past year. An estimated 1.3 million women are victims of physical assault by an intimate partner each year. The costs of intimate partner violence exceed $5.8 billion each year. There are 16,800 homicides and 2.2 million injuries due to intimate partner violence annually. *Statistics courtesy of CHOICES.
These are just a few of the very disturbing statistics on domestic violence and its impact on our communities. One organization, CHOICES, is committed to interrupting the devastating cycle of domestic violence through action, education and advocacy.
Each year, CHOICES invites Central Ohio community leaders to come together to recognize local individuals and/or businesses who have made a significant impact in the area of domestic violence awareness and prevention. This "get-together," the CHOICES Peacemaker Award Luncheon, is considered a premiere event that draws nearly 1,000 attendees each year. This year's event, held this week, drew a record crowd—many bringing their no-longer-used wireless devices to donate to HopeLine® from Verizon.
More than 250 wireless phones were dropped in HopeLine boxes before the event, with more expected to be donated after the event. A recent $50,000 donation by HopeLine from Verizon Wireless has enabled CHOICES to continue its focus on the needs of those it serves and to support the Lethality Assessment Program (LAP), which provides law enforcement with a screening tool to help determine the danger to a domestic-abuse victim.
At Tuesday's luncheon, CHOICES honored LAP founders, Columbus Police Detective Richard Ketcham and Assistant City Attorney Anne Murray. Verizon's Andy Brady, retail sales director and CHOICES board member, presented the awards.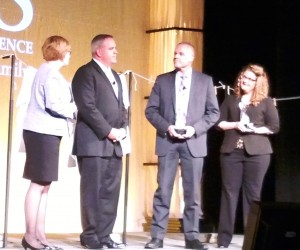 "This new program is monumental because in the past the police would give a domestic violence victim in a potentially dangerous situation the CHOICES' hotline number, but it was up to the victim to call," said Sue Villilo, executive director, CHOICES. "Tragically, most victims who have been killed have had contact with the police. With LAP, police are armed with a tool that enables them to do more to help the victims."
Today, if police in Franklin County, OH are called to a situation and it is determined through the 11 question assessment to be potentially lethal, the officers must call the CHOICES hotline and encourage the victim in the situation to talk to the hotline staff. Approximately 60 to 70% are making the call, with 10% going to the shelter immediately. "Through the support of Verizon and others and the creation of the LAP tool, we're saving lives," added Sue.
In addition, Sue and Andy encouraged attendees to help Verizon's HopeLine program reach its goal of one million phone donations by the end of 2015. Since the luncheon, more than 250 phones have been donated by those who attended. For more information about CHOICES, visit http://choicescolumbus.org/blog/