How a Nurse Keeps Track of Fitness Goals With a Fitbit Charge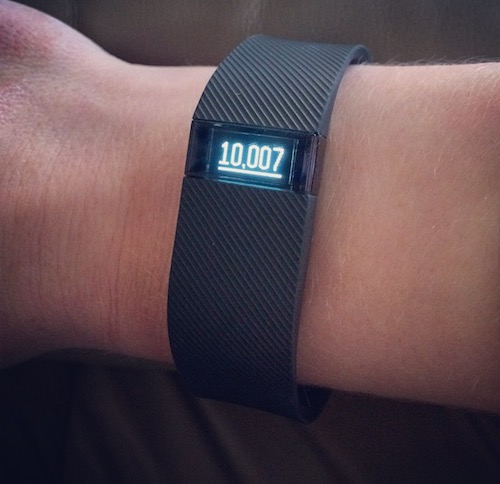 This guest post is the first installment in a series by Amber Keller, an orthopedic nurse and mom of two in Kansas City, on her journey though staying fit while managing her busy schedule. She's embracing Heart Health Month by sharing her experience with the Fitbit Charge and how it's helping her take charge of her health. (Disclaimer: We loaned Amber the Fitbit Charge to test out its new features as she embarked on her fitness journey.)
I'll be honest – sometimes it can be difficult to make time for personal fitness. We've all been there. Duties as a parent, work-related obligations, family and friends all somehow take priority, and before we know it, months have gone by and we haven't so much as glanced at our list of personal goals.
I have two jobs that I love more than anything – I've been an orthopedic nurse for almost 10 years and have two kiddos (ages seven and four) who keep me on my toes around the clock. As I moved through the first month of 2015, I wanted to make sure I was starting both those jobs on the right foot, but also taking the right steps for myself, too. Eating healthy and staying active have always been important to me, and I need to continue working toward my personal goals in order to best care for my patients and kids. So with the help of a Fitbit Charge, I set out to see how fit I really was.
My work schedule varies – sometimes working one day a week, other times, three – and my 12-hour shifts can often involve a great deal of movement. Many of my patients are recovering from some form of back, hip or knee surgery, so helping them back on their feet and guiding them through their first steps can involve both my verbal instructions and physical labor. I was surprised to find that during an average 12-hour shift, I take nearly 10,000 steps, putting me right on the brink of my daily activity goal. But what about the days when I'm on mom duty? Am I keeping my physical activity up?
The Fitbit Charge has been the perfect partner for keeping me on track. Aside from eating healthy and drinking plenty of water, my goal is to walk 10,000 steps each day, whether I'm working or not. I love the customizable interface on the device that allows me to see my most important stats for the day. I keep a close eye on the number of steps I've taken and the number of calories burned. When I'm home with my kids and I see I've only taken 5,000 steps that day, it's great encouragement to take a walk around the neighborhood with them or to park a little farther away when running our errands. It makes me accountable for my activity, and it makes reaching my daily goals that much more rewarding!
I also like being able to keep track of my water intake and my sleep habits. Knowing how much sleep I'm getting and how well hydrated I am encourages me to continue to take care of myself so I'm functioning at my best. It may mean skipping that last episode of our favorite show, or swapping a can of pop for water on my lunch break, but it's a good reminder of how to keep myself healthy. If I'm not looking out for myself, I can't be there for my patients and kids!
My husband has joined me in the Fitbit fun by purchasing the Fitbit Aria Wi-Fi Smart Scale. I love how it syncs with the app to help us keep track of our weight goals. It is a great tool to help us to support each other as we work to stay fit and active.
Stay tuned for Amber's next installment in her fitness journey and see how she's doing with her goal of walking 10,000 steps per day!
For more Verizon Wireless news, subscribe via RSS feeds in the right rail.