How the Milwaukee Barons Use Tech & Social Media to Find Soccer Fans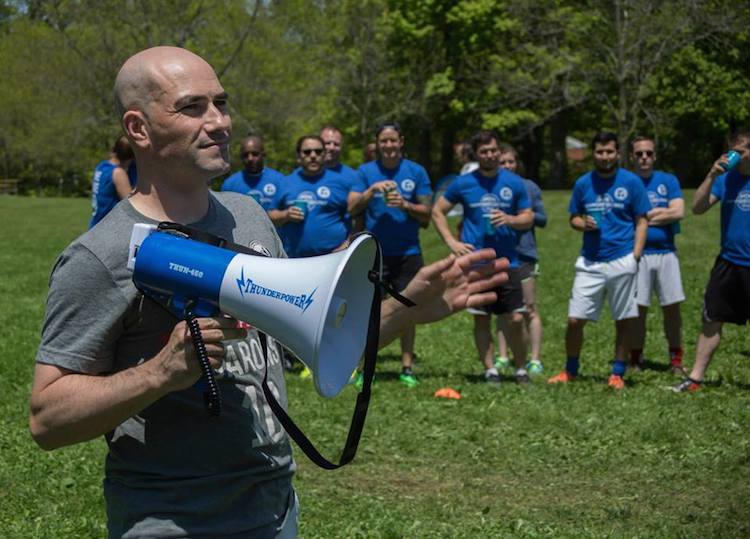 James Moran is from Birmingham. Not the one down south in Alabama, but the one in England. It's England's second-largest city and is the home to many professional soccer teams. Soccer, or football, is in the heart of England.
For almost 20 years, James has called Milwaukee his home. Since May 2014, he's been leading a grassroots initiative to organize the many passionate voices of support for a professional soccer team in Milwaukee with the hope of attracting the investors needed to draw a team to the city.
James is proving soccer is also in the heart of Milwaukee. And he's using Verizon's network to help spread the word.
Meet the Milwaukee Barons. We talked with James to learn more about this group and how they use technology.
What is the Milwaukee Barons group?
The Barons are an independent soccer supporters group for Wisconsin. We're focused on bringing a true professional soccer team to our state. With an identity to rally behind, we're proving Milwaukee's ready to support a team.
How crucial is your network connection and your smartphone to your work?
It's everything! Not just for me, but for the community, as well. Social media and people's ability to share pictures and updates from our events is so important to raise awareness and get people involved. I'm working all over the city of Milwaukee and using my Verizon connection for all of it. It's my lifeline to the soccer community. I need to be able to instantly post, respond and upload pictures to social media as events occur to keep people in the loop and following the progress we're accomplishing together.
What does progress look like?
For now, we're using social media to connect with soccer fans in Wisconsin—as many as we can—who want to help bring a professional soccer team to our state. It's really a grassroots effort. We're measuring progress by increased followers on Facebook, Twitter and Instagram, by attendance at our events and the fans who take the pledge to purchase a season ticket on our website.
How can people get involved this summer?
Keep an eye on our social media accounts and the hashtag #MKEBarons. Take the online season ticket pledge here! I've been talking to potential investors about creating a team in Wisconsin, and they want to see proof of our desire for a team. They challenged me to find a base of 5,000 Wisconsin soccer fans to take the online season ticket pledge. No money is required, but it's how we can prove we're ready.
Tell us about the Miller Park March.
Miller Park is hosting Newcastle vs. Club Atlas on Tuesday, July 14. The event is a huge opportunity for the Milwaukee Barons to make our voices heard … and to get new members and pledges! The Milwaukee Barons tailgate at Miller Park starts at 5 p.m., followed by the Miller Park March at 7:30 p.m. and then the match. Tickets are available on our website. Get involved!
Where can people follow your activity?
Everyone who wants to join us has a voice and can contribute through social media! We want everyone to connect with our accounts, and if they're serious about bringing pro soccer to Milwaukee, to get involved and share our message.
Learn more about the Milwaukee Barons and the Milwaukee Soccer Development Group at www.milwaukeebarons.com and www.msdgsoccer.com. Follow the Milwaukee Barons on Facebook, Twitter and Instagram, and follow James on Facebook, Twitter and Instagram.
For more Verizon Wireless news, subscribe via RSS feeds in the right rail.