Introducing the Verizon Innovative Learning app challenge Best in State winners
Introducing the Verizon Innovative Learning app challenge Best in State winners
2017's new crop of amazing student app designers
This year marks the fifth annual Verizon Innovative Learning app challenge, an initiative of the Verizon Foundation, which delivers technology and immersive STEM opportunities to underserved schools nationwide. The contest engages thousands of middle and high school students across the country to answer an important question: What problem in your community can you solve with technology?
Ninety-four teams and their impressive ideas were chosen as the 2016-2017 Best in State winners. Kids solved for a wide range of issues facing the environment, public safety, mental health, hunger, diet and nutrition, and disease management.
Each winning team will receive $5,000 for their school or sponsoring nonprofit organization's STEM program. Next, they'll compete to win the title of Best in Nation, which includes an additional $15,000 prize and the opportunity to work with Massachusetts Institute of Technology (MIT) engineers to learn how to code and bring their award-winning concepts to life.
The contest isn't limited to seasoned programmers. The app challenge is accessible to any student who wants to make the world a better place. Participating students have the opportunity to collaborate with other visionary peers, gain experience thinking like entrepreneurs and strengthen their communication and persuasion skills.
The simple requirements for entry produced some stunning ideas from middle and high-schoolers, including:
Stand By Me: a wearable bracelet app designed by a California team that helps asthma patients keep track of their health, so that they can adjust medication and activity accordingly.
Smile More: an app designed for people with Post-Traumatic Stress Disorder (PTSD) to connect with support, resources, and others who also suffer from PTSD.
Silent 911: a safety app from a Rhode Island team that allows users to call police in domestic violence and other dangerous situations, without alerting the perpetrator that a call has been placed.
Pantry Pal: an app that connects would-be donors to shelters and food pantries in their area so that users can give precisely what is needed at each specific location
Dreamz: an app designed by a New York team that emits delta and alpha waves to help troubled sleepers fall asleep and wake up more easily. 
To date, more than 33,000 students have participated in the app challenge. Even more exciting is the passion the competition sparks in kids: 88 percent of winners are likely to pursue STEM careers and 60 percent of winning students surveyed were more interested in computer programming subjects after competing in the challenge.
To compete, students submit a three-minute video and essay series describing their proposed mobile app, how it would work and why their particular app is necessary for the social betterment of their school or community.
Winners are selected by a team of educators and STEM professionals chosen by the Technology Student Association (TSA), a partner in the app challenge.
What happens next? Key dates and next steps in this year's challenge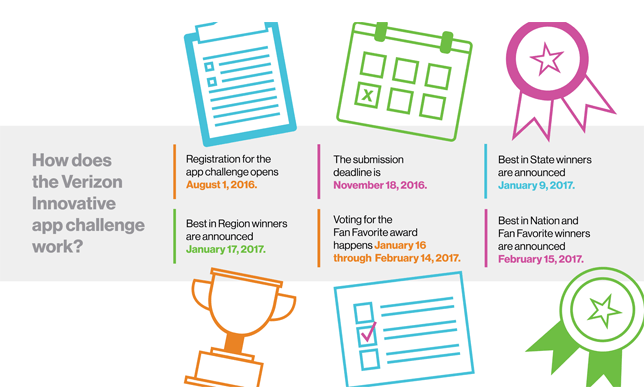 This year's Best in State winners are now in the running to be selected for the next award category, Best in Region, and if chosen will present their projects via a live webinar to panel of media, education, and STEM experts.
In addition to formal judging, teams are encouraged to rally their communities and compete for the coveted Fan Favorite award, chosen by popular vote. The Best in State winner's concept video submissions are posted on the app challenge website and teams invite their local communities to vote for their favorite idea. Fan Favorite voting takes place from January 16 through February 14.
The winning team will receive an additional $15,000 STEM grant and the opportunity to work with MIT engineers to turn their apps into reality.
To stay updated on the impressive entries to the Verizon Innovative Leaning app challenge and vote in the "Fan Favorite" contest, visit verizon.com/appchallenge.
Best in State Winners Middle School
Where's My School Bus?, Holtville Middle School, Alabama
In-Reach, North Pole Middle School, Alaska
Future Folder, Greenfield Junior High, Arizona
SmartRnger, Forest Heights STEM Academy, Arkansas
StandByMe, Joe Walker Middle School, California
Care Packager, Cimarron Middle School, Colorado
Anxiety Arrester, St. Mary St. Joseph School, Connecticut
Drive Safe, Howard University School of Mathematics and Science, District of Columbia
Secure Knight, Postlethwait Middle School, Delaware
Cross-Border Telemedicine, Pine Crest School, Florida
Runners App Management (RAM), Thomson Middle School, Georgia
CF Connect, Maui Waena Intermediate School, Hawaii
Incenti-bucks, Roosevelt Middle School, Illinois
Allergy Aid, Yorktown Middle School, Indiana
Iowa Trash Companion, Waukee Middle School, Iowa
PosiText, Lakewood Middle School, Kansas
Waste Free America, Capital Day School, Kentucky
STUDY BUDDY, Archbishop Hannan High School, Louisiana
Emploi, Glenwood Middle School, Maryland
Empower, Sharon Middle School, Massachusetts
Suspicious Behavior, Washtenaw International Middle Academy, Michigan
Home Alone, Twin Oaks Middle School, Minnesota
Lunch-o-matic, Old Towne Middle School, Mississippi
S.A.F.E., Robert H. Sperreng Middle School, Missouri
Checkin for Hunters/Hikers Assurance Technology (CHHAT), Big Timber Grade School, Montana
Smile Time, Westside Middle School, Montana
EDUniverse, Hyde Park Middle School, Nevada
Community Buddy, The White Field School, New Hampshire
Destination Exploration, Franklin Avenue Middle School, New Jersey
SchoolBoard, Mountain View Middle School, New Mexico
App Engineers, I.S. 98 Bay Academy, New York
Trackrz, Hilburn Academy, North Carolina
Get A Pet, Liberty Middle School, North Dakota
CSA-College Scout App, Felicity Middle School, Ohio
Swap Do Nation, Union 7th Grade Center, Oklahoma
Garden Aid, Northley Middle School, Pennsylvania
FoodFinder, Western Hills Middle School, Rhode Island
HearingHelper, Banks Trail Middle School, South Carolina
FitFresh, Mt. Vernon School District, South Dakota
Ripple, Girls Preparatory School, Tennessee
Strings, Oakwood Intermediate, Texas
eDebate, Olympus Junior High, Utah
Reuse-it, East Montpelier Elementary Parent Teacher Neighbor Org, Vermont
CityQuest, Tuckahoe Middle School, Virginia
Hope, Love, Care, Annie Wright Day School, Washington
WV2Volunteer, Clay County Middle School, West Virginia,
Pass It On, De Pere Middle School, Wisconsin
Farmersbook, Meeteetse Junior High, Wyoming 
High School
Panagi, Shades Valley High School, Alabama
Phantom Buster, Lathrop High School, Alaska
XChange, Camelback High School, Arizona
MHS Counseling, Manila High School, Arkansas
Soteria, Girls Who Code Intuit, California
We the People, STEM School and Academy, Colorado
Under My Wing, Greenwich High School, Connecticut
Intercom, School Without Walls, District of Columbia
Senior Spotlight, Sussex Central High School, Delaware
HungerAid, McArthur High School, Florida
The Breeze, Kell High School, Georgia
Wiki Delivery, James Campbell High School, Hawaii
E-App, Ridgevue High School, Idaho
Save Our City, De La Salle Institute, Illinois
NUTOWN, Zionsville Community High School, Indiana
Pocket Garage, East High School, Iowa
History, Maps and Cultures, Leavenworth High School, Kansas
Hear Me, Betsy Layne High School, Kentucky
EZPrep, Haynes Academy for Advanced Studies, Louisiana
Opportuniteen, Gray-New Gloucester High School, Maine
PantryPal, The Academy of the Holy Cross, Maryland
Trace, Science Club for Girls, Massachusetts
Back to Bacteria, Troy High School, Michigan
GovBuddy, Eden Prairie High School, Minnesota
Be the Plug, Career Development Center, Mississippi
Virtual Camera Anatomy Topography, Blue Springs High School, Missouri
Classroom Assistant, Sentinel High School, Montana
Farmhand, Johnson-Brock Public School, Nebraska
Smile More, Southwest Career and Technical Academy, Nevada
Agent Java, Windham High School, New Hampshire
SCIO, West Windsor Plainsboro High School North, New Jersey
See Something. Say Something., Taos Academy Charter School, New Mexico
Illustria, Brooklyn Technical High School, New York
Fiscal Empire, Ashe County High School, North Carolina
Diatrack, Dickinson High School, North Dakota
Alert U, Westlake High School, Ohio
HandycAPP, Oklahoma Christian Academy, Oklahoma
SUR+, Woodrow Wilson High School, Oregon
CaringCloset, Cochranton Junior Senior High School, Pennsylvania
Silent 911, Barrington High School, Rhode Island
CPR Buddy, Academy for the Arts, Science and Technology, South Carolina
Buddy Central, Montgomery Central High School, Tennessee
DoctDocs, The Hockaday School, Texas
Pocket Closet, Jordan Applied Technology Center, Utah
Spotted, STEM All Stars, Virginia
Takemethere, STEM High School, Washington
Flood Protection, Pocahontas County High School, West Virginia
Ballot Buddy, New London High School, Wisconsin