Jumpstart Your Career With Hands-On Learning
Jumpstart Your Career With Hands-On Learning
Verizon Propels Interns Into Successful Careers with its Real-world Experience Program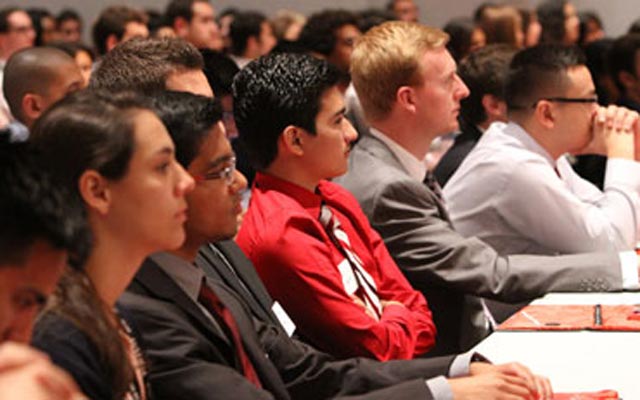 Ed Chan began his Verizon career as an engineering intern with the Bell Atlantic Mobile Systems wireless lab back in 1992. Mobile phones were still in their relative infancy at the time, and Ed's internship responsibilities included automating the evaluation process of new phones.
"It was challenging and rewarding in many ways," he reflects. "I was given a clear goal to create something brand new with minimal supervision of how I used the resources I was given, but I had to ask questions and acquire the equipment and software necessary to accomplish the goals set before me." 
The project Ed worked on was Verizon's first automated phone testing system. Today, as Senior Vice President of Network Infrastructure Planning, Ed is responsible for the strategic technology evolution of the company's wireless and wireline networks, including wireless spectrum and long-term capital planning.
Grow and Develop Your Skills
As was the case with Ed's internship experience, all Verizon interns are given numerous opportunities both in the field and through seminars to grow their skills and build meaningful, longstanding careers. The one-on-one training and guidance they receive helps them gain a competitive edge and stand out early on in their fields.
 "Your career is what you make it at Verizon. You'll have the best tools in the industry to help you meet your goals, but it's up to you to take advantage of them and realize your full potential."
We provide our interns with real business issues to solve and goals to achieve during the course of their internships. Advisors thus can see firsthand an intern's talents in action and identify the specific skills he or she brings to the table. This gives them insight into what career paths might work for each intern, as well as if each intern is a good fit for the company.
And it's the real-world experience that makes all the difference.
"While my title was Intern, I was expected to do the job of a recruiter and to hire top talent from day one," remembers Catherine Howard, who interned at Verizon in 2010 and 2011 and now serves as Talent Acquisition Consultant on the Northeast Area Talent Acquisition Team. 
Work with a Passionate Team
One of the reasons Catherine recommends an internship at Verizon is the opportunity to work with highly talented people. "You will work with really great people," she says. "Integrity has always been very important to me and, when I started, I quickly found that it was truly engrained in the culture at Verizon."
"You'll receive honest and constructive feedback that will help you to grow and develop."
Advance Your Career
Verizon sets the bar high for our interns, backing up those goals with a commitment to mentoring and developing skills in the interns we hire. "You will learn. A lot," reflects Catherine. "You'll receive honest and constructive feedback that will help you to grow and develop." Verizon is committed to this long-term career development mindset and seeks to transition interns into full-time employees wherever possible.
That was the case for Ed. He's been with the company now for 22 years. He reflects back to his internship, "I was in control of and accountable for the quality of my own work. I knew that if I worked hard and created the best solution, it would be recognized by others."