Kentucky HopeLine Drive Will Support Domestic Violence Survivors Transitioning to New Lives
Kentucky HopeLine Drive Will Support Domestic Violence Survivors Transitioning to New Lives
Kentucky resident Brandie Cobb is an abuse survivor, but she is also moving on with her life while helping others who have been in their shoes. At a recent news conference in Lexington, KY, Brandie shared her experiences and offered encouragement to other survivors at a kick-off event for the 2015 Kentucky HopeLine Drive, which will collect used mobile phones and accessories and turn them into cash grants for three Kentucky domestic violence agencies. Brandie was joined by numerous collaborators in the drive, including Yum! Brands Foundation Executive Director Laura Melillo Barnum, Kentucky Community and Technical College System (KCTCS) President Dr. Jay Box, Kentucky Coalition Against Domestic Violence Executive Director Sherry Currens and Verizon Region President Lauren Love-Wright, as well as representatives from the nearly 150 participating organizations. Together, they filled a HopeLine box with about 100 devices, the first to be donated in the 2015 Kentucky HopeLine Drive, which runs through Oct. 16 (KCTCS will hold a drive on all 70 of its campuses from Oct. 12 through Nov. 13).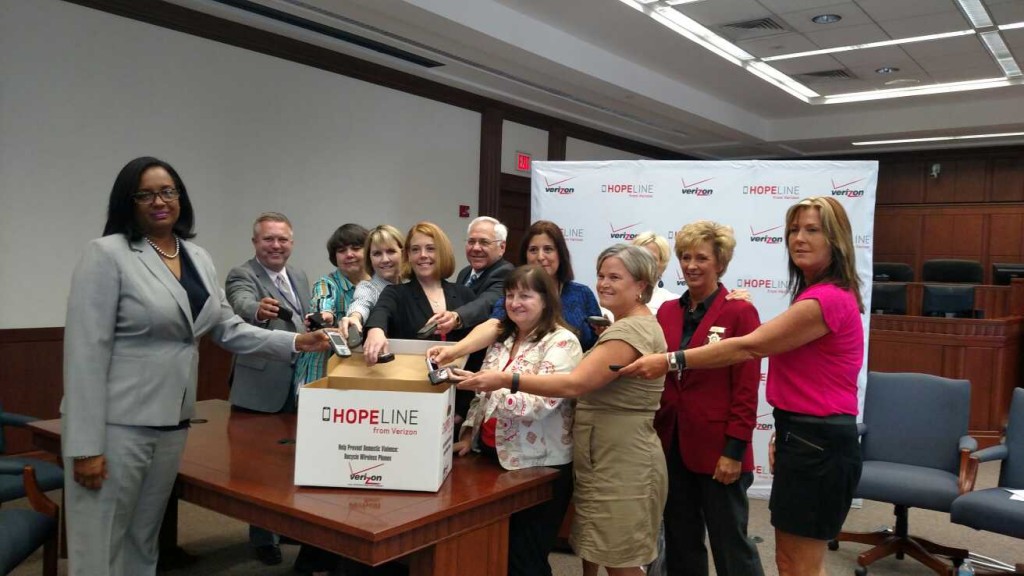 Brandie Cobb, 5th from left, is accompanied by several of the 150 participating organizations in the 2015 Kentucky HopeLine Drive. Pictured, left to right, are: Lauren Love-Wright, Verizon Region President; Steve Riggs, Fayette Circuit Court Clerk; Sherry Currens, Executive Director, Kentucky Coalition Against Domestic Violence; Carol Jordan, Executive Director, University of Kentucky Office for Policy Studies on Violence Against Women; Brandie Cobb; Dr. Jay Box, President, Kentucky Community and Technical College System; Susan West, Dean, University of Kentucky Fraternities and Sororities; Angelica Maldonado, Fayette County Circuit Court domestic violence specialist; Jennifer Scrutchfield, Lexington Council member; Kathy Witt, Fayette County Sheriff; Darlene Thomas, Executive Director, Greenhouse17, a Lexington domestic violence agency.
Verizon is providing participants with HopeLine® from Verizon collection boxes and drive posters, along with free shipping for collected devices. Participants in the Drive are placing HopeLine collection boxes in about 350 locations across the Commonwealth to gather the donated devices, which can be from any carrier, in any condition. The Kentucky HopeLine Drive is also part of a national goal from HopeLine to collect 1 million phone donations in 2015. At the conclusion of the Kentucky Drive, Verizon will present grants totaling $50,000 to:
Kentucky Coalition Against Domestic Violence, which mobilizes and supports member programs and allies to end intimate partner violence.
Funded Program: KCADV Economic Empowerment Project helps domestic violence survivors get on their feet financially by helping them with large expenses – such as education, buying a house or a car or starting a small business. This program helps survivors create an Individual Development Account (IDA) and a restricted savings account, and KCADV matches their savings at a 4:1 ratio (1:1 for a car). The program also includes financial counseling to help survivors learn to set financial goals, create and live within a budget, understand credit and avoid predatory lending, as well as free tax preparation and no-interest microloans.
Legal Aid Society, which provides free legal services to the most disadvantaged in the community, including survivors of domestic violence.
Funded Program: Collaboration and Advocacy to provide Safety and Empowerment (CASE) Project, a partnership between LAS, the Center for Women and Families, the University of Louisville Brandeis School of Law and the Kentucky Association of Sexual Assault Programs, to provide advocacy and representation to victims of domestic violence and sexual assault. In January 2015, LAS expanded the CASE Project to provide services to college and university survivors of sexual assault and train Title IX coordinators on college campus on how to comply with the law.
UK Office for Policy Studies on Violence Against Women, which works to enhance direct services to victims, legal response and legislative reform related to violence against women through policy research and analysis and empirically driven advocacy and practice.
Funded Program: Experiential Education Internship Program, a pilot program to place UK students as interns at the GreenHouse17 and the Bluegrass Rape Crisis Center, which will provide hands-on learning for students while also providing support to Lexington domestic violence organizations. HopeLine is a vital resource for survivors of abuse, Brandie said: "It not only gives survivors a phone, it says to the victim that there are people who are supporting them in their time of need, that they are believed and not alone. Because someone believed my story I was able to do the healing work and turn my life around completely." Brandie, who earned a 4.0 grade point average last year, is now in her senior year at the University of Kentucky. She is the inaugural recipient of the Verizon Wireless Women's Empowerment Scholarship, which gives abuse survivors access to higher education as a way to escape violence and abuse and diminish its long-term effects. She has been inducted into the National Society of Collegiate Scholars for her academic success, leadership and service. When Brandie graduates next June, her diploma will be one more step toward ending abuse in Kentucky. Following is a list of Kentucky agencies participating in the 2015 Kentucky HopeLine Drive:
For more Verizon Wireless news, subscribe via RSS feeds in the right rail.