Leading the Way on Domestic Violence Awareness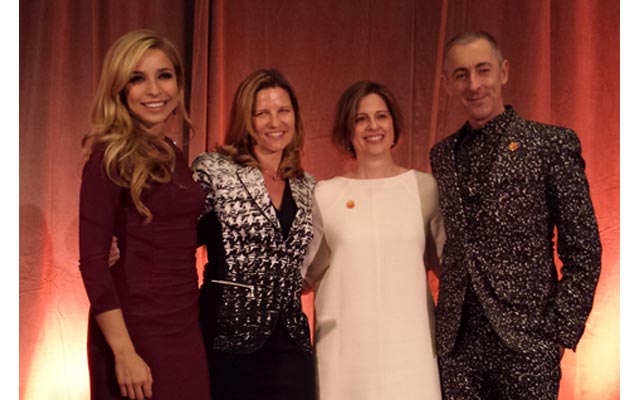 Who would think that Miss America 2015 Kira Kazantsev, award-winning actor Alan Cumming and Verizon share a common goal?
They sure do: to prevent violence, promote justice, and provide support for victims of crime and abuse.
These champions for domestic violence awareness and education were honored recently at the 20th annual Safe Horizon Champion Awards in New York City.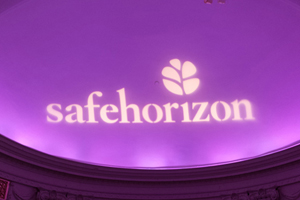 Safe Horizon is the largest victims' services agency in the United States, touching the lives of more than 250,000 children, adults and families affected by crime and abuse throughout New York City each year.
The event opened with a video titled "The Most Dangerous Week," produced by Kirk Lavine and Kevin Higgins from Verizon's VZTV team. The video took viewers through the first week when a domestic violence victim makes the decision to leave the abuser, and it's told from the perspective of the Safe Horizon support team, which details each step and the team's role.
Nancy Clark, a Safe Horizon board member and Verizon's CMB & Wireless Marketing Operations leader , accepted the Corporate Leadership Award on behalf of Verizon for our domestic violence awareness and education efforts with our HopeLine program. She showed our public service announcement with NFL player William Gay and mentioned the launch of our 1 Million Phone Drive Campaign.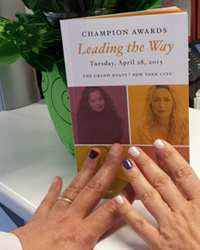 Kira Kazantsev was honored with a Voice of Empowerment Award in recognition of her work in bringing awareness to domestic violence. She's the voice and face of the Put the Nail in It campaign, which launched at the awards event. The campaign asks supporters to pledge to end domestic violence and support Safe Horizon and survivors by paint their left ring fingernail purple, the color of the anti-domestic violence movement, and sharing it on social media using #PutTheNailinIt.
Actor Alan Cumming -- winner of the Tony, Emmy and Golden Globe Awards -- accepted the Humanitarian Award. He shared his journey, captured in his best-selling book "Not my Father's Son," as a child abuse victim who suffered physical, mental and emotional abuse at the hands of his father. He ended his acceptance speech by sharing the award with his mother and brother, who both were victims of his father's abuse, and noted how they're the true champions.