Making Strides in Brooklyn to End Breast Cancer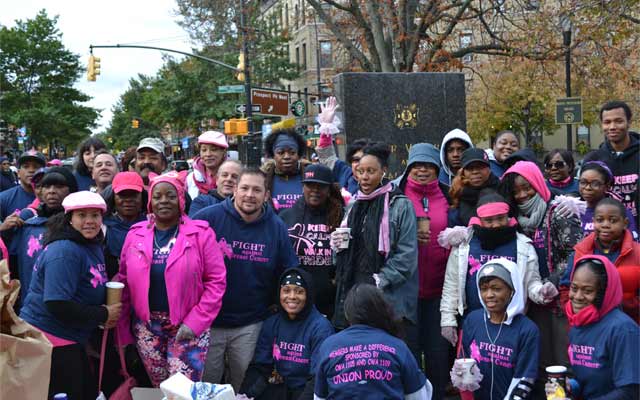 Verizon employees in Brooklyn also go by another name: Members Make A Difference. Staying true to its name, the MMAD team made a big difference by raising over $18,000 for the American Cancer Society's Making Strides Against Breast Cancer walk.
Customer care representative Hector Soto and field technician Joseph Lorio led this fundraising effort.
"We work with a large group of women, so we wanted to advocate and support an event that is striving to eliminate and raise awareness of breast cancer," said Soto.
Designed to empower people across the country to raise funds and awareness to end breast cancer, Making Strides events are a way to honor and remember those who battled breast cancer; raise awareness of how we can stay well; and raise money to fight the disease through research, information and services.
Team MMAD — which included employees from Verizon's 395 Flatbush Ave. office and field technicians from various local garages — participated in the event in Brooklyn, with some team members representing Verizon in the Bronx and New Jersey.
Thanks to their impressive individual efforts, combined with fundraising events such as a cake sale (which contributed over $2,000 alone), fundraising was truly a team effort.
Inspiration From Within
Part of the team's motivation to raise money came from inside the office.
Tamika Matthews is a Verizon employee and breast cancer survivor who went through chemotherapy and a double mastectomy. She sat in on team huddles to share her story with her colleagues. Her words inspired her teammates' fundraising efforts.
The $18,000 donation is just the beginning. With Matthews' help, the team continues to find ways to raise awareness and educate others on mammograms and preventative care.
This article was contributed by Dori Gray, who is on the communications team at Verizon.