Meet Paul Ulreich: Verizon's Midwest Area Uber User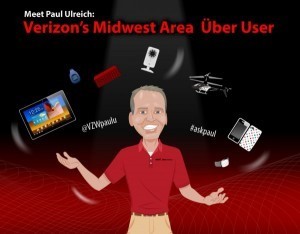 I'd like to introduce you to Paul Ulreich (pronounced ul-RIK) – he's a Verizon power user of all our products and devices. And what he doesn't know, he will find out for you!
Paul made his first road trips to cities in Indiana and Missouri this week as the Verizon Wireless Midwest Area's Uber User, sharing his insights on products, services and all things Verizon. He's at home anywhere from a large animal vet clinic or a radio station sharing his knowledge of all things tech.
Paul has been with Verizon Wireless for 16 years and meets with customers, media, bloggers and small businesses to bring in the latest wireless devices and innovations available on the market today. From smart accessories to tablets and phones, his inside take on tech devices is worth sharing.
Paul's first road trip was to Princeton, IN for a stop at the Princeton Veterinary Hospital and the family farm owned by Dr. Marybeth Miskovic Feutz and her husband, Dr. John T. Feutz.
Marybeth, who is connected to the Real Farm Wives of America on Facebook, is also a blogger on her site, Alarm Clock Wars. She's testing out some great new gadgets for her business and her blog that we loaned her.
Watch for Paul's road trip travels, as well as his device recommendations and demos, on our blog to keep track of Paul's adventures across 15 Midwestern states. You may be surprised where the Uber User lands!
For more Verizon Wireless news, subscribe via RSS feeds in the right rail.