Meet the Blogger: Shelbi Gustafson From Everyday Mrs.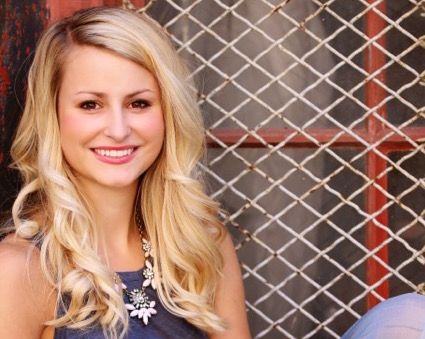 In another installment of our Meet the Blogger series, we chatted with Shelbi Gustafson, lifestyle blogger, fashion lover and writer of EverydayMrs.com.
Let's start with a little background: Tell us about you and your family.
Let's see…where to begin! My husband, Isaac, and I got married about two years ago. We currently live in Wichita, KS, the same city where we attended college. We like Wichita because we are close to family and friends. In addition to blogging, I'm also a store manager at LOFT and use my blog as a creative outlet. I love sharing my newlywed adventures and DIY house projects with all my readers.
When and how did you start your blog?
I started my first blog in college after I went through some big life changes. I was very close to my grandma and sadly, she passed away. My first blog was called Where the Willows Grow and I used it almost as a personal journal. I shared stories, memories and thoughts about my grandma, and my family used it as a place to connect.
Then a couple years later, I went through another big life change: I got married! I knew I wanted to continue blogging, but recognized my first blog wasn't the right place to be sharing my newlywed adventures. That's when Everyday Mrs. was born! I wanted my new blog to be more of a reflection of my life in the now. I have a passion for decorating, DIYing and Pinteresting and wanted to share those stories with my followers.
What's your favorite thing about being a blogger?
There are so many things I like about blogging…what to choose!
First, I've gotten the opportunity to meet a lot of cool people through blogging. For example, I never would have imagined I'd be working with the folks at Verizon!
I also love hearing from my readers and knowing that not only are they reading what I put out there, but they are also connecting with my content.
Lastly, I like that I have the freedom to write and share stories about what I'm passionate about.
What's one thing your readers don't know about you?
Hmm…that's a hard question. I would have to say though, a lot of my readers don't know that I have a full time job. I've gotten a lot questions such as, "Oh you must not work" or "You don't work full time." Once people find out I work and blog, the next question is, "How do you find time to blog?" My answer is that I make time because it's something I love! I always say, "Blog because you love to blog, not because you want to get rich or make a ton of money." That being said, I would love to blog full time one day, but we will see what the future brings.
How do you use technology in your everyday life?
I use technology for most things I do in my life. For example, my iPhone is always with me for blogging and for personal use. I'm pretty much on Instagram 24/7 and use it to connect to and find other bloggers. I, of course, also use my device for FaceTiming, texting and taking photos.
What's your must-have device or accessory?
My must-have device is for sure my iPhone 6. I constantly need to take photos for my blog and I have found myself using my iPhone more than ever for quick blog-worthy photos.
You're a lifestyle blogger, what are your favorite apps for fashion/home decorating?'
I'm all about my apps. My faves are:
These are great because not only do they give me a creative outlet, but they also help me connect with others and give me inspiration for my fashion and DIY pojects!
What tips do you have for anyone wanting to start their own blog?
Blogging is a TON of work. If you are interested in starting your own blog, start your blog for the right reasons and find your niche. Don't start your blog to become famous, and don't blog about things you aren't passionate about (your readers will know!). Once you get to work, be consistent with your posts and successes will come!
Make sure to connect with Shelbi on Twitter and Instagram and stay up-to-date on her latest DIY projects on her blog EverydayMrs.com.
For more Verizon Wireless news, subscribe via RSS feeds in the right rail.