Roadtreking With Mike Wendland - Mackinac Island, MI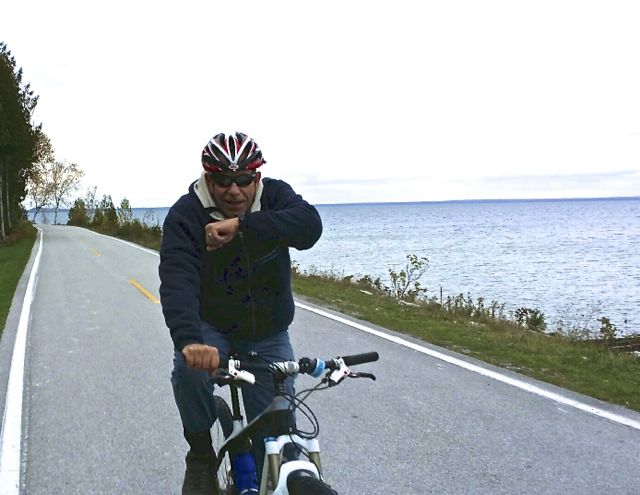 This is a guest post from Mike Wendland, our newest guest blogger, veteran journalist and blogger at Roadtreking.com who you'll be seeing more of throughout the next few months. Verizon Wireless is compensating Mike to travel throughout the Midwest in his RV to talk with our customers and share stories about how they are using technology to enhance their lives. However, all opinions and content are directly from Mike, not Verizon Wireless. Mike's first story is a personal one about how technology came in handy on a recent trip to beautiful Mackinac Island, MI.
They rang the closing bell on the front porch of the Grand Hotel this week, signifying the end of the 127th season of the hotel known far and wide as "America's Summer Place."
With the Grand closed for the winter, pretty much everything else on Mackinac Island is also shut down – the fudge and T-shirt shops, most of the B and Bs, Fort Mackinac and the bicycle rental places.
Even the ferry schedules have been cut way back. Usually by the end of December or early January, they have to suspend all service because of ice. Most winters, the only way to the island is by air or, for the adventurous, by snowmobiles over the ice bridge that forms between the island and St. Ignace, the closest city in Michigan's Upper Peninsula.
To say it's quiet on Mackinac is an understatement.
Every year, my wife, Jennifer, and I head up near closing weekend time. We love the island in late fall. Gone are the thousands of summertime tourists who jam the streets and make it difficult to navigate on foot. The stores all have deep discounts, and there's a sort of back-to-nature feel for the place as winter approaches.
And yet, even in the off-season, the island is a very connected place, with ubiquitous Verizon Wireless 4G LTE coverage everywhere.
As we waited for our room at the Grand to be ready on the Friday we arrived, we took our bikes for a ride along the 8.4-mile shoreline road. On the far side of the island, my Samsung Galaxy Note 3 smartphone rang. It was in my pocket, so instead of stopping and getting off the bike, I used my Samsung Galaxy Gear wristwatch/phone to take the call.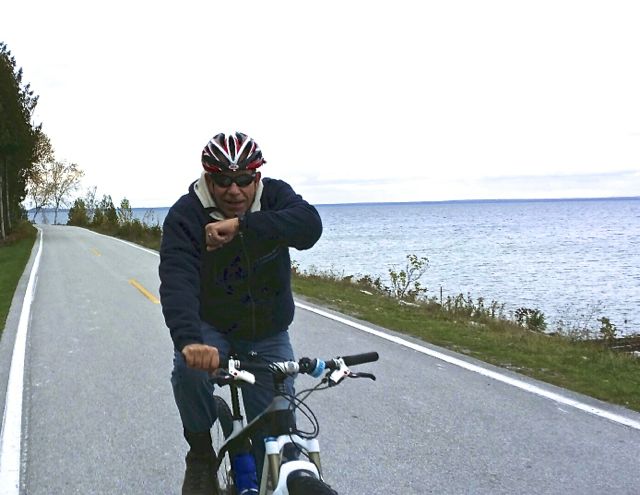 Isn't technology great? Talking on a wrist phone. So cool.
The weekend we visited, a week before the Grand's closing day, the hotel was hosting a ballroom dancing event that drew people from all across the country. Since Jennifer has gladly traveled 32,000 miles with me chasing stories throughout North America in our RV this year, this special trip was for her. She loves to dance.
Friday and Saturday nights, everyone dressed up and danced to a full orchestra, complete with a vocalist. Some of the men wore tuxedos. One guy wore a Scottish kilt. Several wore spats. The women wore fancy shoes and elaborate dresses that ranged from formal to Dancing With the Stars-like costumes, complete with hats and long gloves.
There was dancing Friday night. We watched. These people knew what they were doing. No way was Jennifer getting me out there, not without some serious refresher lessons.
So, come Saturday, she signed us up for dancing lessons all day long. Readers of my roadtreking.com blog asked for video of us dancing. We handed my Note 3 to a fellow student and shot a short clip, which, during a welcome break in the practicing, I uploaded.
The hotel offers WiFi. I prefer using my own network, thanks to a Jetpack and Verizon's MiFi data card. Public WiFi can get very slow. Since I was updating a blog, sending video and photos, I needed fast and reliable connections. The MiFi 4G LTE connection was like being at home on my cable connection.
At night, everyone danced. Non-stop. The Fox Trot, the Waltz, the Quick Step, Cha-Cha, Rumba, Jitterbug, Swing and variations of them all.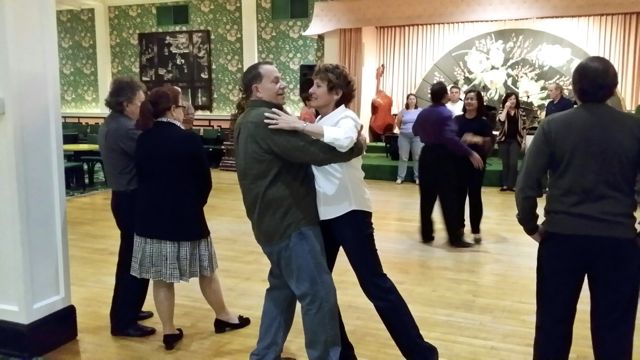 Jennifer was immensely enjoying the island, the dancing and the old world charm of the Grand. Me? I love having a happy wife.
But two nights of wearing a suit and tie are enough to last me a long time. Here's hoping my willingness to dress up and do the ballroom dancing weekend in the fall will be reciprocated with her willingness to dress warm and do a winter trip.
For more Verizon Wireless news, subscribe via RSS feeds in the right rail.