Missouri Department of Conservation Goes Mobile
Missouri has always been known for its abundance of beautiful scenery, rolling hills, clean streams and abundant wildlife, thanks in no small part to the outstanding efforts of the Missouri Department of Conservation. Careful management of the state's natural resources have made Missouri fields, forests and lakes destinations for hunters and fishermen throughout the United States. Now, the Department of Conservation has given a nod to technology by enabling hunting and fishing enthusiasts to "go mobile."
The change in Missouri's Wildlife Code became effective on July 30, 2015 and now allows for either paper or electronic versions of various licenses and permits to be presented to wildlife officials for verification and identification purposes. To help facilitate this change to electronic registration, the Department offers a field-tested app known as MO Hunting. It's available for both iOS and Android operating systems.
Although the app itself is free of charge, fees for various hunting and fishing permits still apply, and in most cases, may be purchased directly through the app. To enable MO Hunting on your mobile device, simply download the app and enter your date of birth and your Missouri Conservation Number. This number is located on any previous paper license you may have or on the back of your Missouri Heritage Card. You can also find or establish a conservation number by visiting the Department's website or by calling 1-800-392-4115.
The app will create a unique QR code that is displayed on your screen (along with your name) and can be scanned by Conservation agents. It will also list all valid hunting and fishing permits that you have purchased in Missouri on the permits screen.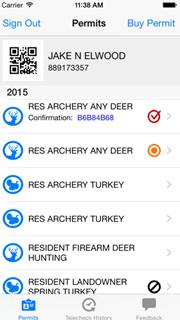 To purchase additional permits or licenses, simply touch the Buy Permit title and begin the process online. According to Joe Jerek, statewide news services coordinator for the Missouri Department of Conservation, the process is very simple.
"The app itself has been field-tested for the past few years, and we have received valuable feedback that has helped make this application very user friendly," indicates Joe. "Most basic permits are available through the MO Hunting app, including fishing permits, although some special items like Federal Duck Stamps, special permits and licenses from other states are not supported on this app." Once the initial permits are purchased, the data is downloaded to your mobile phone and may be displayed on your screen, even if a data or Internet connection is not available.
"Just make sure your phone is charged up before you start your trip so you can call up the app if needed," noted Joe. Also included in the MO Hunting app is the ability to check your game online. This service, commonly referred to as Telecheck, does require an Internet or data connection, but can be completed each day by 10 p.m. to report that trophy buck or gobbler you harvested while in the field.
The check-in system can also be completed via mobile or landline phone connections. "Hunters report enjoying the convenience of this online check-in, and it also provides them with a brief historical record of game they have taken in past seasons," added Joe. In addition, the app contains information regarding hunting and fishing regulations in the state of Missouri, daily game and fishing limits and a feedback section that allows you to help the Department make improvements in the app over time.
Missouri has a rich history of hunting and fishing, and the award-winning Missouri Department of Conservation helps the state maintain that distinction through thoughtful wildlife management and careful conservation practices. This new mobile application helps harness the power of technology to improve the service they provide to the people who live in and visit this beautiful state.
All images courtesy of the Missouri Department of Conservation.