Mobile Lifestyle of a Successful Graphic Designer & Entrepreneur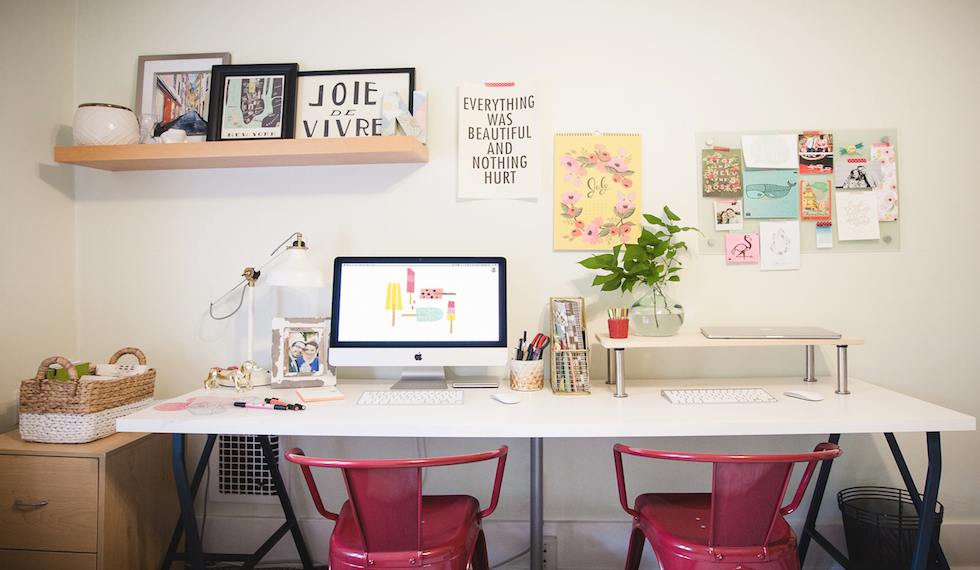 When Nicole Armstrong gets home from work, she takes a short tech break before she plops down in front of her computer to embark on her first love as a stationary and greeting card designer, usually around 8 or 9 p.m. Technology empowers her to pursue her design dreams and lead an active mobile lifestyle, while maintaining a full-time job at an agency.
"Mobile tech allows me to stay connected with clients throughout the day, and it helps get my work out into the world," she says.
Penelope Poppy, Nicole's personal design venture, launched in 2006 when she began selling her designs on Etsy.com and at a few local boutiques in Pittsburgh. In 2010, she entered her designs into a Minted Wedding Challenge, and three were selected for sale on the site. Since then, she's been an active member of their design community, a Mintie, and has her own Minted Storefront.
She's also launching a personal website and devotes much of her time to weddings.
"Weddings are big jobs and you invest months to ensure every detail is perfect," Nicole says.
Her designs range from save the dates to full invitation suites, plus programs, menus and unique requests like a custom coffee bean roast package as a party favor.
Nicole uses her iPhone 6 to stay connected. "Before I can even open both eyes, I've opened Instagram," she says.
Throughout the day, she relies on social media apps to keep up with all aspects of her life—professional and personal. She gleans inspiration and stays on top of trends through Instagram and participates in Mintie forums on Facebook. She markets her products on social media, though Pinterest has been the most helpful.
"A lot of people who contact me on Etsy found my work through Pinterest."
In fact, last June, it was on Pinterest where she first learned that one of her designs had been selected for fashion designer Rebecca Minkoff's baby shower and featured on People.com in a photospread.
"Imagine my excitement as I was scrolling through my Pinterest feed early in the morning and I recognize my straw flags in a pin," Nicole said. "I click through, and it takes me to Project Nursery's post on Rebecca Minkoff's gorgeous lavender baby shower...using my design!"
Minted, and social media in general, have "opened up so many doors and opportunities to have my work out there in the world in ways that I may never have been able to on my own," she explains.
Nicole manages the business side of her pursuits with various apps, including Sell on Etsy, which helps her keep track of her online sales and manage her products remotely; PayPal; MailChimp; and Square Reader, an app she uses on her iPad to keep track of inventory, send receipts and allow customers to pay with a credit card.
Apps aid Nicole in the creative realm of her work, as well. She uses Notebooks on her iPad, which allows her to do hand lettering, then take the script into Illustrator and use it in place of a font for a custom look on invitations and cards.
"I'm very particular about photography," Nicole says, and in the design business, everything has to look just right. "I cannot live without PicTapGo! or VSCO Cam—almost every photo I ever post goes through both of those apps," she raves.
Nicole opts for the classic pen-on-paper method, however, when it comes to schedules and calendars.
"I just love paper [planners] so much," she says. She admits she is trying to get better about using Asana, a project management site to keep track of progress and due dates for all her parallel projects.
Though Nicole tries to draw a bold line between her full-time work and her life as a successful artist, sometimes she'll email clients on her lunch break when facing an impending deadline. Or, she'll go on Minted.com from her smartphone and vote for her favorite entries in the last hours of a Minted challenge.
"It would definitely be more difficult to manage both my full-time job and my personal design pursuits without mobile technology," she says.
For more Verizon Wireless news, subscribe via RSS feeds in the right rail.