Technology and Hospitals: How to Stay Connected During a Hospital Stay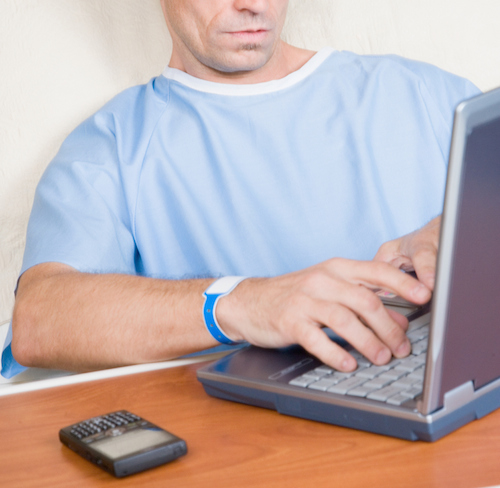 This is a guest post from Mark Farnen, managing partner of Strategist Communications in Columbia, MO, who works with the Verizon Wireless PR team in the Kansas/Missouri Region.
In the summer of 1971, I visited my family doctor for what I believed would be a routine physical prior to my first day of high school. Much to my surprise, the doctor found a problem that required a short stay in the hospital and corrective surgery. I packed a bag with some pajamas, a watch, a few magazines and various underwear and socks.
That was the last time I was in the hospital – until last month.
Not surprisingly, I discovered that the nature of medical care had changed dramatically in terms of technology and capability. In fact, the operation I had back then could today have been performed in about two hours on an outpatient basis. I also discovered that my overnight bag would be packed with substantially different equipment than was available to me in 1971.
Here are a few tips about technology and hospitals and what tech to bring to help you stay connected, productive and entertained during your next hospital stay.
Choosing Your Hardware
Every hospital room has a landline available to patients. However, I have eight brothers and sisters, two parents, a wife, a daughter and dozens of friends and co-workers with whom I needed to stay in touch. So my MotoX smartphone, complete with phone, text and email capabilities, became the first necessary technology item selected for my overnight bag. Smartphones are infinitely portable, easy to use in bed, avoid the necessity of distributing a hospital room number to friends, have an adjustable ring tone and have the bonus of storing other everyday apps.
While that phone could have kept me well connected, I also decided it would be wise to pack a tablet as an alternative for viewing and responding to emails and social media messages. I chose the Sony Xperia Z2 tablet with a slim, leather protective case for my adventure. The larger display, the larger keyboard and the slimmer profile than a typical notebook computer all suited my needs when confined to bed.
Knowing that I would most likely be using both devices frequently, I packed two wall outlet charging cords, as well as a Motorola Power Pack Slim 5100 Portable Charger for "just in case" use. It should be noted that although hospital rooms are loaded with electrical outlets, patients should check with the hospital staff to make sure your devices are not plugged into outlets reserved for emergency medical equipment and do not impede medical staff from performing bedside procedures and tests. In my case, I found two dedicated outlets on a side wall that served my purposes perfectly.
I also checked my signal strength on both devices as I checked into the hospital. In both cases, I had full strength 4G LTE connectivity on the Verizon Wireless network, and I discovered that both devices could connect well with the hospital's guest Wi-Fi network.
Choosing Your Software
Prior to my hospital stay, I gave considerable thought to the types of tech tools I would need during my stay. I decided that my phone was well equipped to handle almost all my "connectivity" needs, but I decided to set up my tablet as a productivity and entertainment center. I divided my needs into a few key categories:
Social Media – I loaded native apps for my main social media outlets onto my tablet on a single screen. This included Twitter, Facebook, LinkedIn, Google+ and YouTube, as well as my HootSuite aggregator app. Having all these apps in one place on my tablet made navigation and response remarkably easy.
News – Although I did have a television in my room, my everyday work requires constant monitoring of news from many sources. I downloaded apps for my local newspaper, radio and television stations, as well as apps for national news sources like The New York Times. Again, I created a separate section on my tablet screen so all news items were grouped together for easy reference.
Sports – This was a big deal. My hospital stay coincided with both the World Series and the college football season. Despite the fact that I did have a TV in my room, I downloaded MLB At Bat and the FOX Sports Go apps to make sure I would not miss a single inning of the Kansas City Royals' attempt to win the national baseball crown. I was also determined not to miss the Missouri Tigers in action on the Saturday during my stay, so I installed the Tune In Radio app to listen to the game just in case the hospital cable service was not carrying the regional broadcast.
Productivity – Despite the fact that I was in the hospital, I knew there were a few work-related tasks I could complete if I had the right tools. I installed Office Suite Pro for all my document reading and editing needs and made sure I had uploaded documents to Google Drive for use during my stay. Evernote, Sketch and Calendar rounded out my work group of apps.
Entertainment – Finally, I knew that sometimes I would just need to relax and recuperate. I used Google Play Music to make sure I had access to tunes I wanted and downloaded the HBO Go app for movies. For a simple diversion, I downloaded Word Hero – a very challenging and addictive word game that can be played individually or online.
Final Tips
Although I set up my phone and tablet for my personal use, I discovered this same set up would work well for hospital visitors. Even if you are not the patient, this technology set-up can be very handy while you are killing time in the waiting room or visiting a patient who decides to sleep more than talk during the visit.
Consider using the remote control app on your tablet– my Sony Xperia tablet came loaded with a very nice Remote Control app. I was able to connect the app to my in-room television and found that it was more convenient than the corded remote control provided by the hospital. In fact, with my tablet-based remote control, I was able to turn off a malfunctioning Closed Captioning feature on my television and set favorites on the channel line-up – something I could not do on the standard issue hospital controller.
Finally, make sure you have the juice you need to power your equipment. Pre-charge all your equipment, take your various chargers with you and take a spare battery. You can't do anything with all this technology if you can't turn it on!
I sincerely hope none of you has to endure a hospital stay in the near future, but if you do, these technology and hospitals tips should help make your visit a little more comfortable and a little more productive than it would have been back in 1971.
For more Verizon Wireless news, subscribe via RSS feeds in the right rail.